Autumn is apple season and if you went apple picking like me a few weeks ago well you probably have a ton of apples right now in your fridge. I know that apples are good to just snack on without adding anything to it but sometimes for dessert you want something sweeter than a straight up apple right? Well this apple pie is perfect for that. It's warm, sweet and comforting. It's basically one of the most perfect dessert for that time of the year. 
This pie is filled with loads of apples and spiced up with cinnamon for that extra flavour kick. Did you know that cinnamon can also warm you up from inside out ? It's one of these spices that smells like autumn and that you should  consider having at this time of the year to warm you up a little. This recipe is my family's all time favourite pie that they all call the best apple pie. Every year it's a staple in my family to make this apple pie recipe and if I fail at doing so I get a friendly reminder to bake it. Yes yes it is that good of a pie and you actually won't even believe it is vegan. So if you want to fool your non-vegan family member well this is the recipe for it. 
The crust is made from scratch but don't get scared by that. This crust recipe is basically full proof. You just cannot messed it up because it turns out amazing every time as long as you follow the ingredients. Plus you will thank me for making the crust from scratch since homemade crust is thousand times better than the store bought one.  Don't forget to let it sit in the fridge for 30 min since it will really help to roll it out better and makes sure it turns out flaky. 
I sometimes add pecans inside of it but this is optional. The pie is excellent without them as well but if you are a nut fanatic than adding some pecans will for sure satisfy your taste buds even more. With or without pecan you should give this recipe a try simply because it's one and only apple pie recipe you'll ever need. 
 L'automne est la saison des pommes et si vous êtes allé cueillir des pommes comme moi il y a quelques semaines, vous avez probablement une tonne de pommes en ce moment dans votre réfrigérateur. Je sais que les pommes sont bonnes pour grignoter sans rien y ajouter, mais parfois pour le dessert, vous voulez quelque chose de plus sucré qu'une pomme simple, n'est-ce pas? Eh bien, cette tarte aux pommes est parfaite pour ça. C'est chaleureux, doux et réconfortant. C'est l'un des desserts les plus parfaits pour cette période de l'année. 
Cette tarte est remplie de pommes et épicée de cannelle pour une touche de saveur supplémentaire. Saviez-vous que la cannelle peut aussi vous réchauffer de l'intérieur? C'est une de ces épices qui sent l'automne et que vous devriez envisager d'avoir à cette période de l'année pour vous réchauffer un peu. Cette recette est la tarte préférée de tous les temps de ma famille qu'ils appellent tous la meilleure tarte aux pommes. Chaque année, c'est une recette est de mise dans ma famille et si je n'y parviens pas, je reçois un rappel amical de la faire. Oui, c'est aussi bon que ça comme tarte et vous ne croirez même pas que c'est végétalien. Donc, si vous voulez bien tromper votre membre de la famille non végétalien, voici la recette parfaite.  
La croûte est faite à partir de zéro, mais ne vous en faites pas. Cette recette de croûte est impossible à manquer. Vous ne pouvez tout simplement pas la gâcher car elle est bonne à tous tous coup  tant que vous suivez les ingrédients. De plus, vous me remercierez d'avoir fait la croûte à partir de zéro, car la croûte faite maison est mille fois meilleure que celle achetée en magasin. N'oubliez pas de la laisser reposer au réfrigérateur pendant 30 minutes car cela aidera vraiment à mieux la rouler et fera en sorte qu'elle devienne croustillante.
 J'ajoute parfois des pacanes à l'intérieur mais c'est facultatif. La tarte est excellente sans elles aussi, mais si vous êtes un fanatique de noix, ajouter des noix de pécan satisfera à coup sûr encore plus vos papilles gustatives. Avec ou sans noix de pécan, vous devriez essayer cette recette simplement parce que c'est la seule et unique recette de tarte aux pommes dont vous aurez besoin.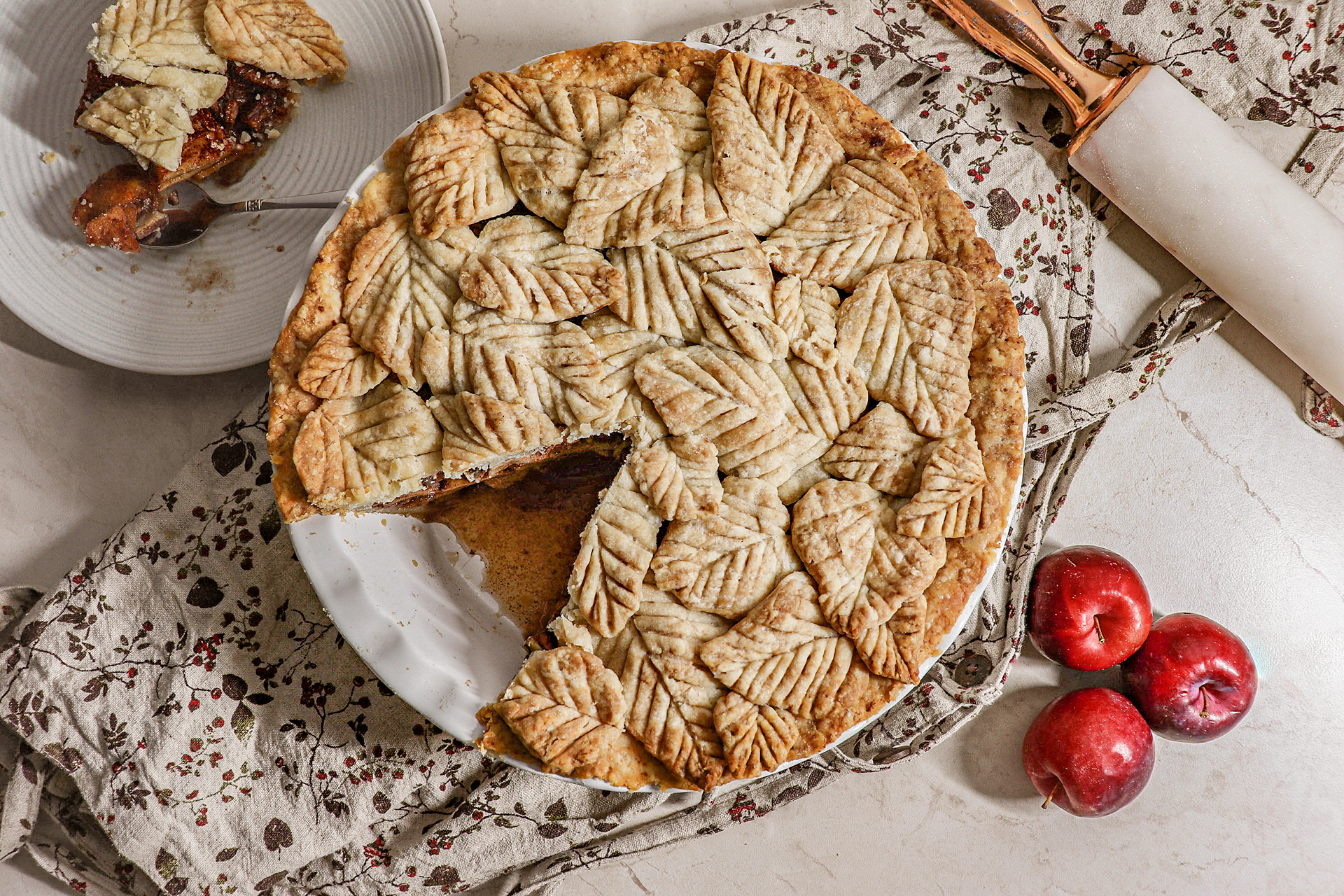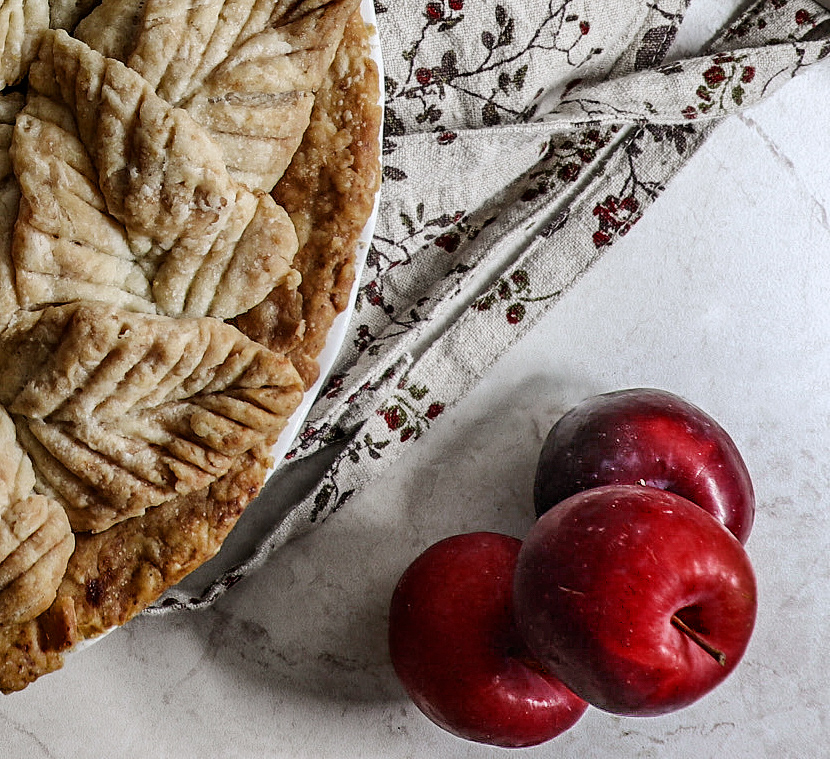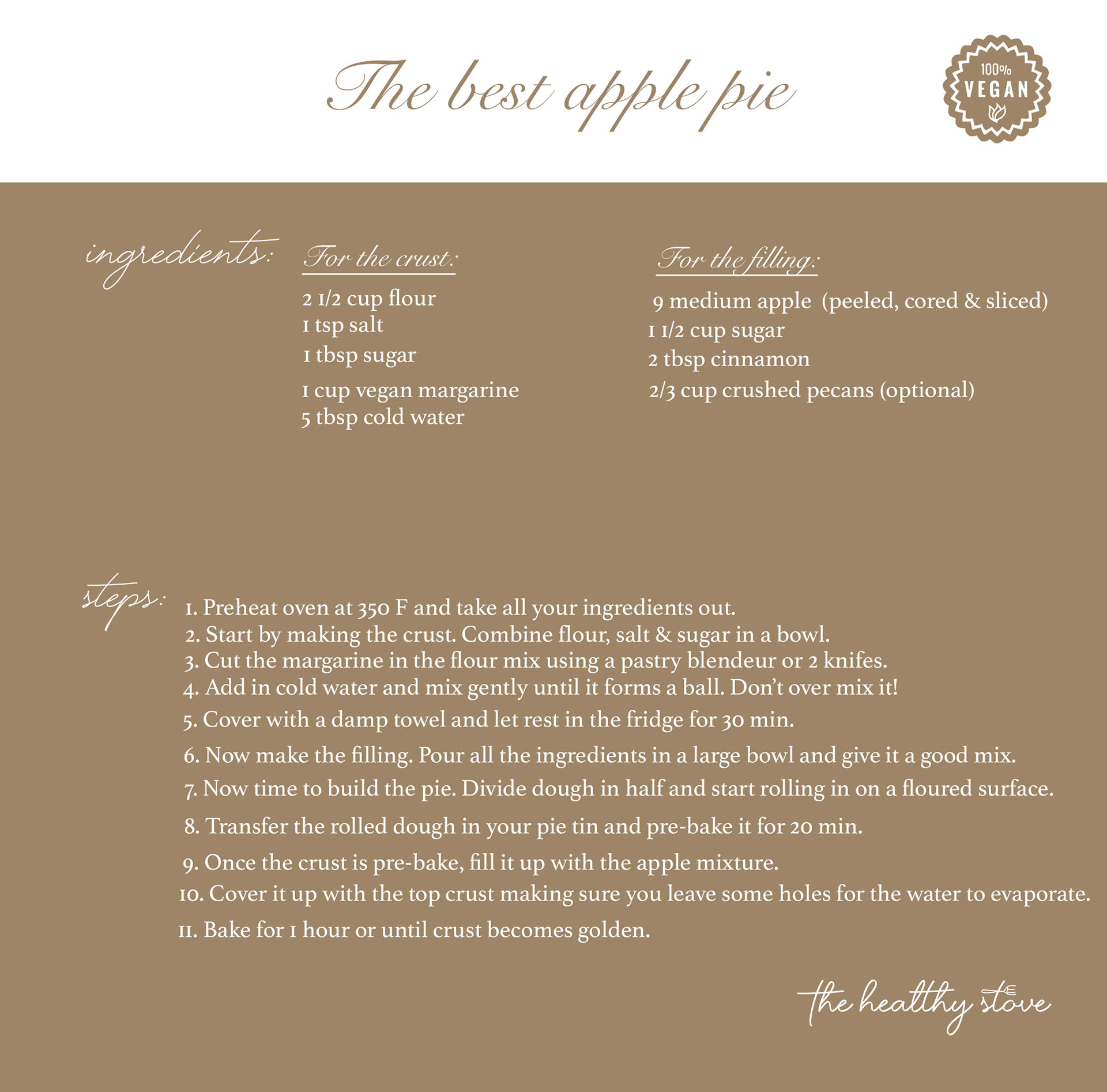 * If you make it I would love to see your work! Just tag me (
@the.healthystove
) on your recreation pictures on instagram and I would be happy to share your work on my stories.