Happy Friday and happy new year! 
Although this new year strangely looks like 2020 since for most of us we are still dealing with some sorts of restrictions .... I truly hope that you are hanging on and doing good. For me this new year is going to be very different from every other ones since I'm currently building a human being than should be here by July. Yes life is about to change this year but hang on I'm here to stay and still bring you a bunch of delicious vegan recipes. This pregnancy is not going to change the way I eat or cook. Everything will stay vegan, flavourful, easy and delicious. I would emphasize on the easy part here since let's be real making a human being demands a lot of energy and I'm not always up for cooking complex time consuming recipes alright? But hey who doesn't like easy and delicious? 

This first recipe of 2021 is all of that and I'd say I'm slightly obsessed with it at the moment since it keeps me feeling full until lunch time and is packed with healthy nutritious ingredients. Being pregnant made me be mindful of what I put in my body even more. These pancakes are made in the blender and won't create too much dishes to clean. If you ask me I'd say that's an amazing bonus. They are fluffy and yet gluten free since I used oats instead of flour so if you are gluten free and vegan you will really enjoy these. 
They also contain some hidden protein and omegas since there's hemp and flax seeds in them. I like to top mine with peanut butter at the moment because let's be honest peanut butter, banana and chocolate is the perfect combo. I also enjoy making a big batch of these on Sunday to have some leftover for the week this way I get yummy pancakes all week long without any efforts! 
I hope you'll enjoy them as much as I do and can't wait to see yours in your plates at home ! If you make them make sure to tag me (@the.healthystove) in your pictures so that I can see your delicious pancakes. 
Bon vendredi et bonne année! 
Bien que cette nouvelle année ressemble étrangement à 2020, car pour la plupart d'entre nous, nous sommes encore confrontés à certaines sortes de restrictions ... J'espère vraiment que vous vous accrochez et que vous allez bien. Pour moi, cette nouvelle année va être très différente de toutes les autres puisque je suis en train de fabriquer un être humain qui devrait être ici en juillet. Oui, la vie est sur le point de changer cette année, mais attendez, je suis là pour rester et vous apporter encore un tas de délicieuses recettes végétaliennes. Cette grossesse ne changera pas ma façon de manger ou de cuisiner. Tout restera végétalien, savoureux, facile et délicieux. Je voudrais insister sur la partie facile, car soyons réalistes, faire un être humain demande beaucoup d'énergie et je ne suis pas toujours prête à cuisiner des recettes complexes et longues, d'accord? Mais qui n'aime pas une recette facile et délicieuse?
 Cette première recette de 2021 est tout cela et je dirais que je suis un peu obsédée par elle pour le moment car elle me donne une sensation de satiété jusqu'à l'heure du déjeuner et regorge d'ingrédients sains et nutritifs. Être enceinte me fait être encore plus consciente de ce que je mets dans mon corps. Ces crêpes sont faites dans le mélangeur et ne créent pas trop de vaisselle à nettoyer. Si vous me demandez, je dirais que c'est un bonus incroyable. Elles sont moelleuses et pourtant sans gluten puisque j'ai utilisé de l'avoine au lieu de la farine, donc si vous êtes sans gluten et végétalien, vous les apprécierez vraiment. 
Elles contiennent également des protéines et des omégas cachés car elles contiennent des graines de chanvre et de lin. J'aime garnir les miennes de beurre de cacahuète en ce moment, car soyons honnêtes, le beurre de cacahuète, la banane et le chocolat sont le combo parfait. J'aime aussi en faire un gros lot le dimanche pour avoir des restes pour la semaine. De cette façon, je peut avoir de délicieuses crêpes toute la semaine sans aucun effort! 
J'espère que vous les apprécierez autant que moi et j'ai hâte de voir les vôtres dans vos assiettes à la maison! Si vous les faites, assurez-vous de me taguer (@ the.healtystove) dans vos photos pour que je puisse voir vos délicieuses crêpes.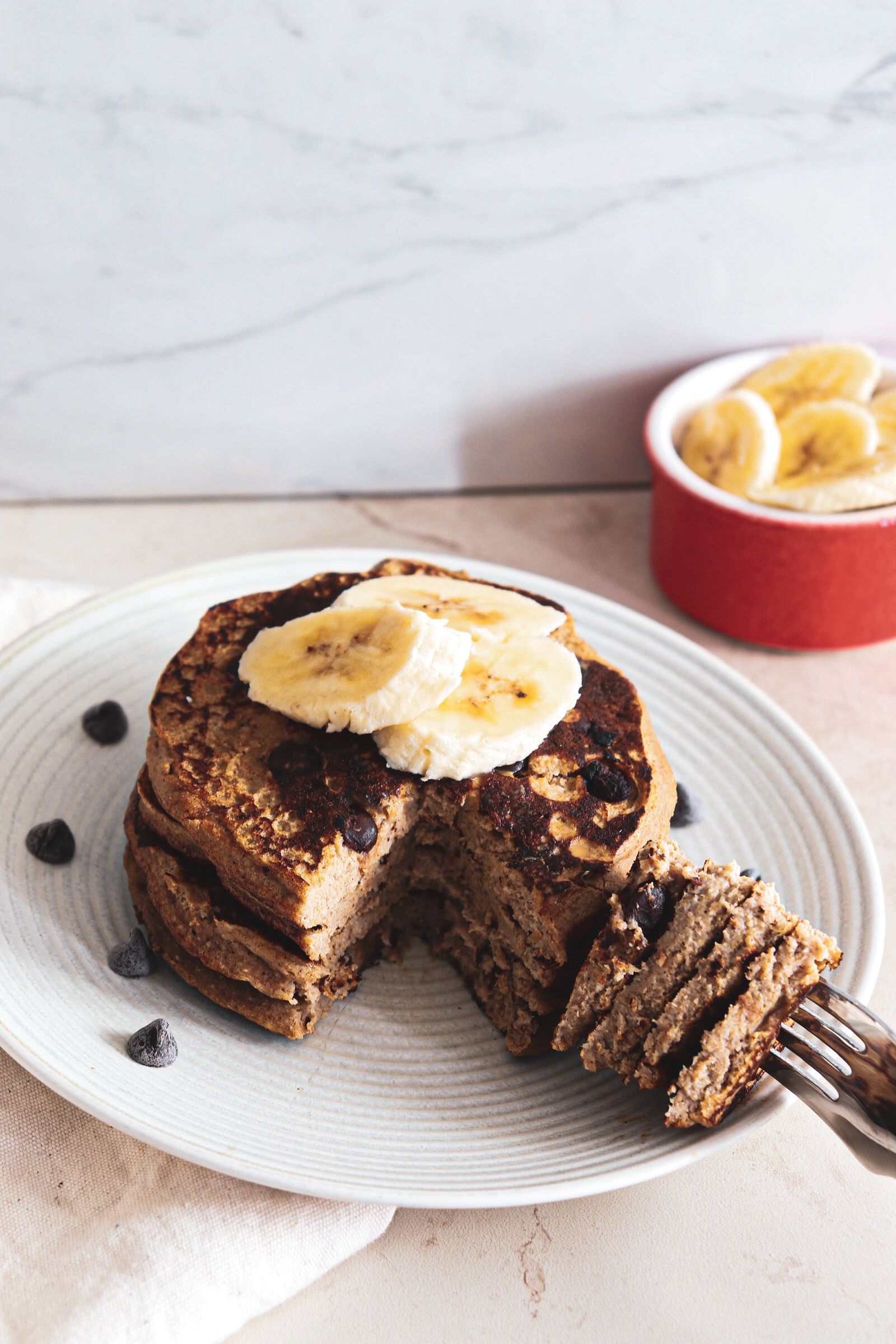 * If you make it I would love to see your work! Just tag me (
@the.healthystove
) on your recreation pictures on instagram and I would be happy to share your work on my stories.