Today I have an extremely easy recipe for you that is perfect for a quick sweet tooth fix or a little decadent energy snack. These bar are like candy bars but healthier. They even contain some protein since they have peanuts and peanut butter. Another good thing is you can conserve them in the freezer for a very long time. This way you can get a quick sweet tooth fix every time you crave for something sweet. 
These bars are the best to make ahead of time because they won't go bad since you have to keep them in the freezer. This way you have mini healthier candy bars in your freezer at all time. The good thing is they only require few ingredients that you probably have at all time in your pantry so you can easily make them whenever you want. 
I have never been a fan of store bought candy bar since to me they always tasted way too sweet and kind of artificial in a way. I don't know if you get what I mean or if anyone thinks the same. Maybe I'm just that weird person who never enjoyed candy bars as a kid. Anyhow these are the perfect amount of sweetness with a hint of saltiness that I really enjoy since I'm a fan of salty and sweet things. So if you're like me and you like sweet and salty flavours and you like to be able to pronounce every ingredients that is in your candy bar well this recipe is for you. Can we just take a moment to realize how many ingredients their is in a regular candy bar that we have no clue how to pronounce them or what they are ? I don't know about you but I prefer to put things I know are not extremely modified in my body even if it's supposed to be a treat. 

I'm a big believer of the "you are what you eat" so I like to fuel my body with wholesome food that I know will make my body feel good and energized. Don't get me wrong sometimes I slip and have greasy outside food and although it's delicious I tend to not feel my best afterwards and I'm realizing more and more that I enjoy meals way more if they make me feel my best after eating them. But that's just food for thought here and I'm by any mean telling you to cut out all the outside food or junk food of your life. You do you my friends ! 
Aujourd'hui, j'ai une recette extrêmement facile pour vous qui est parfaite pour une solution rapide pour les gourmandises ou une petite collation énergétique décadente. Ces barres sont comme des barres chocolatées mais en meilleure santé. Ils contiennent même des protéines car ils contiennent des arachides et du beurre de cacahuète. Une autre bonne chose est que vous pouvez les conserver au congélateur pendant très longtemps. De cette façon, vous pouvez obtenir une solution rapide pour les gourmandises chaque fois que vous avez envie de quelque chose de sucré. 
Ces barres sont parfaites à préparer à l'avance car elles se garde très longtemps, puisque vous devez les conserver au congélateur. De cette façon, vous avez à tout moment des mini barres chocolatées plus saines dans votre congélateur. Une autre bonne chose est qu'elles ne nécessitent que quelques ingrédients que vous avez probablement en tout temps dans votre garde-manger afin que vous puissiez facilement les préparer quand vous le souhaitez.
 Je n'ai jamais été fan de barres chocolatées achetées en magasin car pour moi, elles avaient toujours un goût trop sucré et artificiel d'une certaine manière. Je ne sais pas si vous comprenez ce que je veux dire ou si quelqu'un pense la même chose. Peut-être que je suis juste cette personne étrange qui n'a jamais apprécié les barres chocolatées quand j'étais enfant. Quoi qu'il en soit, celle-ci ont la quantité parfaite de sucre avec un soupçon de salé que j'apprécie vraiment puisque je suis fan de choses salées et sucrées. Donc, si vous êtes comme moi et que vous aimez les saveurs sucrées et salées et que vous aimez pouvoir prononcer tous les ingrédients qui se trouvent dans votre barre chocolatée, cette recette est faite pour vous. Pouvons-nous juste prendre un moment pour réaliser combien d'ingrédients il y a dans une barre chocolatée ordinaire que nous n'avons aucune idée de comment les prononcer ou ce qu'ils sont? Je ne sais pas pour vous mais je préfère mettre des choses que je connait et qui ne sont pas extrêmement modifiées dans mon corps même si c'est censé être une gâterie. 
Je suis une grande partisane du «vous êtes ce que vous mangez», alors j'aime nourrir mon corps avec des aliments sains qui, je le sais, rendront mon corps bien et plein d'énergie. Ne vous méprenez pas parfois, je glisse et je mange des aliments gras et ultra transformé à l'extérieur et bien que ce soit délicieux, j'ai tendance à ne pas me sentir de mon mieux par la suite et je me rends compte de plus en plus que j'apprécie beaucoup plus les repas s'ils me font me sentir bien après les avoir mangés. . Mais c'est juste matière à réflexion ici et je ne vous dis en aucun cas de couper toute la nourriture extérieure ou la malbouffe de votre vie. Vous faites ce qui est bon pour vous!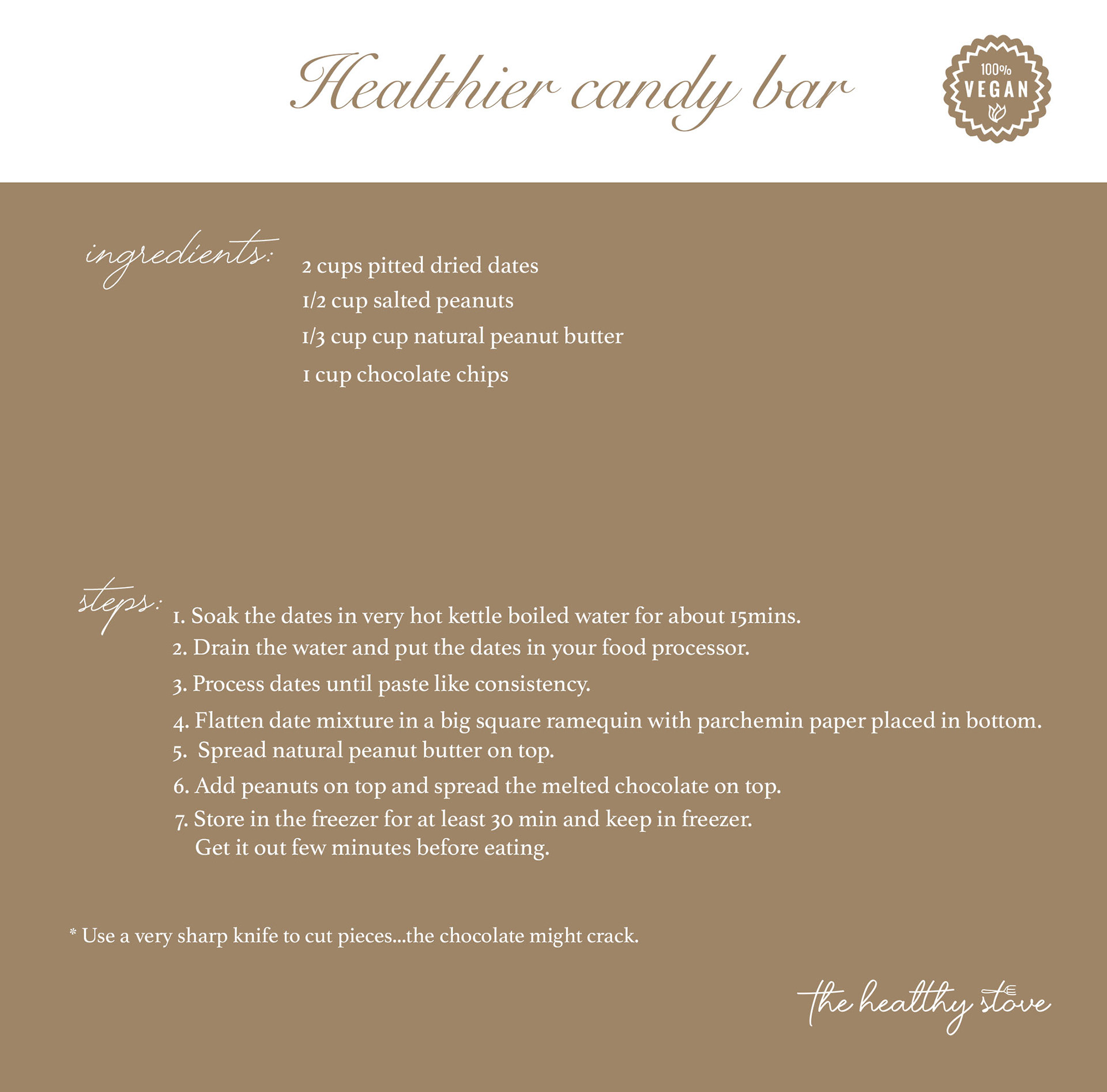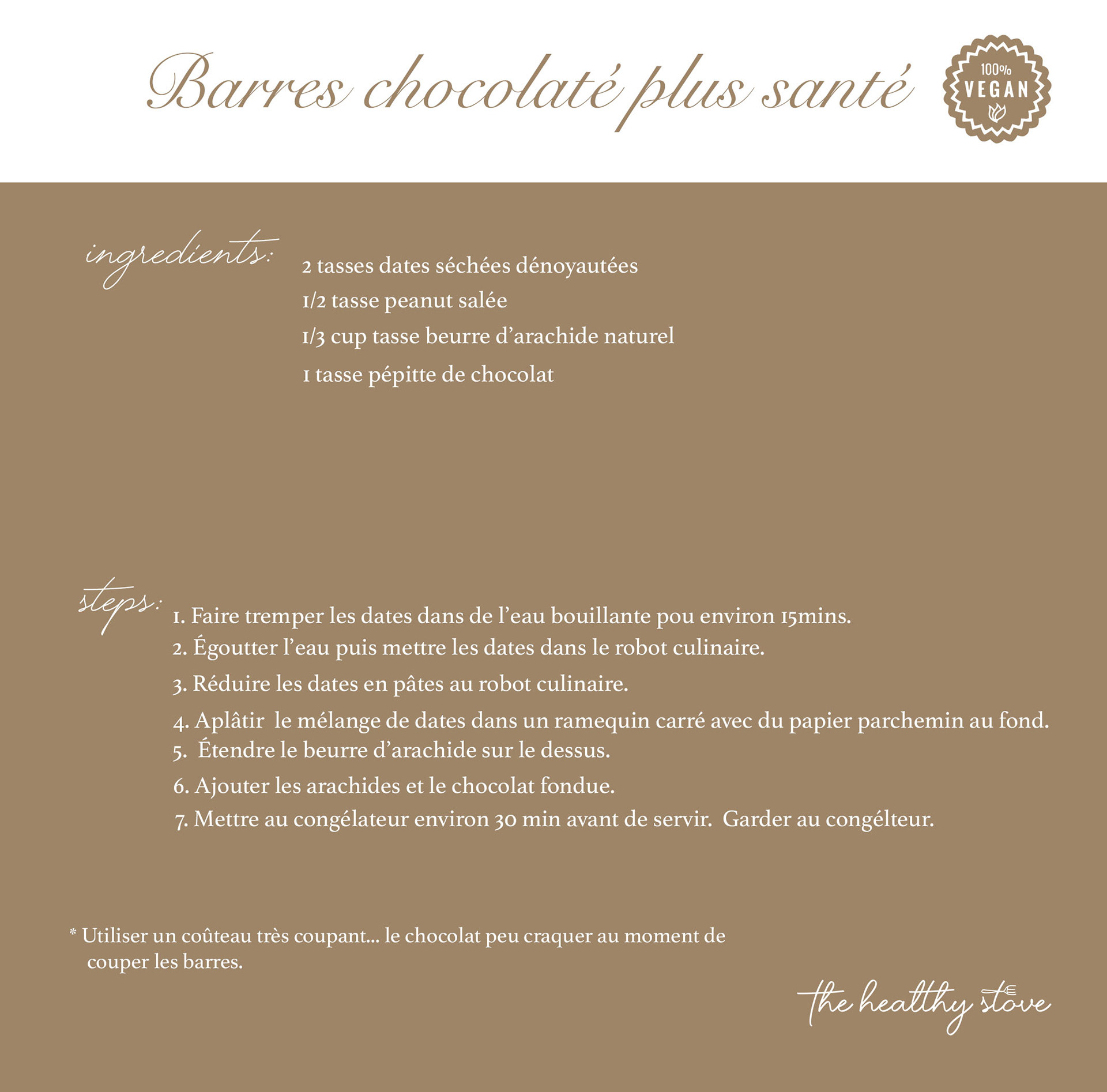 * If you make it I would love to see your work! Just tag me (
@the.healthystove
) on your recreation pictures on instagram and I would be happy to share your work on my stories.