I don't know about you but I am definitely a fan of cardamom and fennel flavoured sweets. I also really enjoy making crêpes on the weekend. So why not combine both things in one delicious indian flavoured sweet crêpe? Yes you heard me right this recipe is the perfect cardamom and fennel flavoured crêpes. Up to me it is the perfect combo between french and indian cuisine that will just make you travel with each bite you take. 

They are super easy to make and just require a little bit of "flip" skills. Even if easy to make the flavour of those crêpes will for sure surprise you in a good way. They are on the sweeter side so you can either enjoy them as a sweet breakfast or as a dessert if you are not a fan of sweet breakfasts. 
*

Je ne sais pas pour vous mais moi je suis fan de tout ce est sucré qui contient de la cardamom et des graines de fenouil. J'adore aussi faire des crêpes la fin de semaine. Donc, pourquoi ne pas combiner les deux dans une délicieuse crêpes sucrée à saveur indienne? Oui vous m'avez bien entendue, cette recette est la parfaite crêpe à saveur de cardamom et de fenouil. Selon moi, c'est la meilleur combinaison entre cuisine française et saveur indienne qui vous feras voyager avec chaque bouchées. 
Elles sont simples à faire et ne nécessite qu'un peu de talent pour tourner les crêpes. Même si elles sont facile à faire, leur saveur  vous surprendra à coup sur d'une belle façon. Elles sont assez sucrées donc vous pouvez même les faire comme dessert si vous n'aimez pas les déjeuner trop sucrée.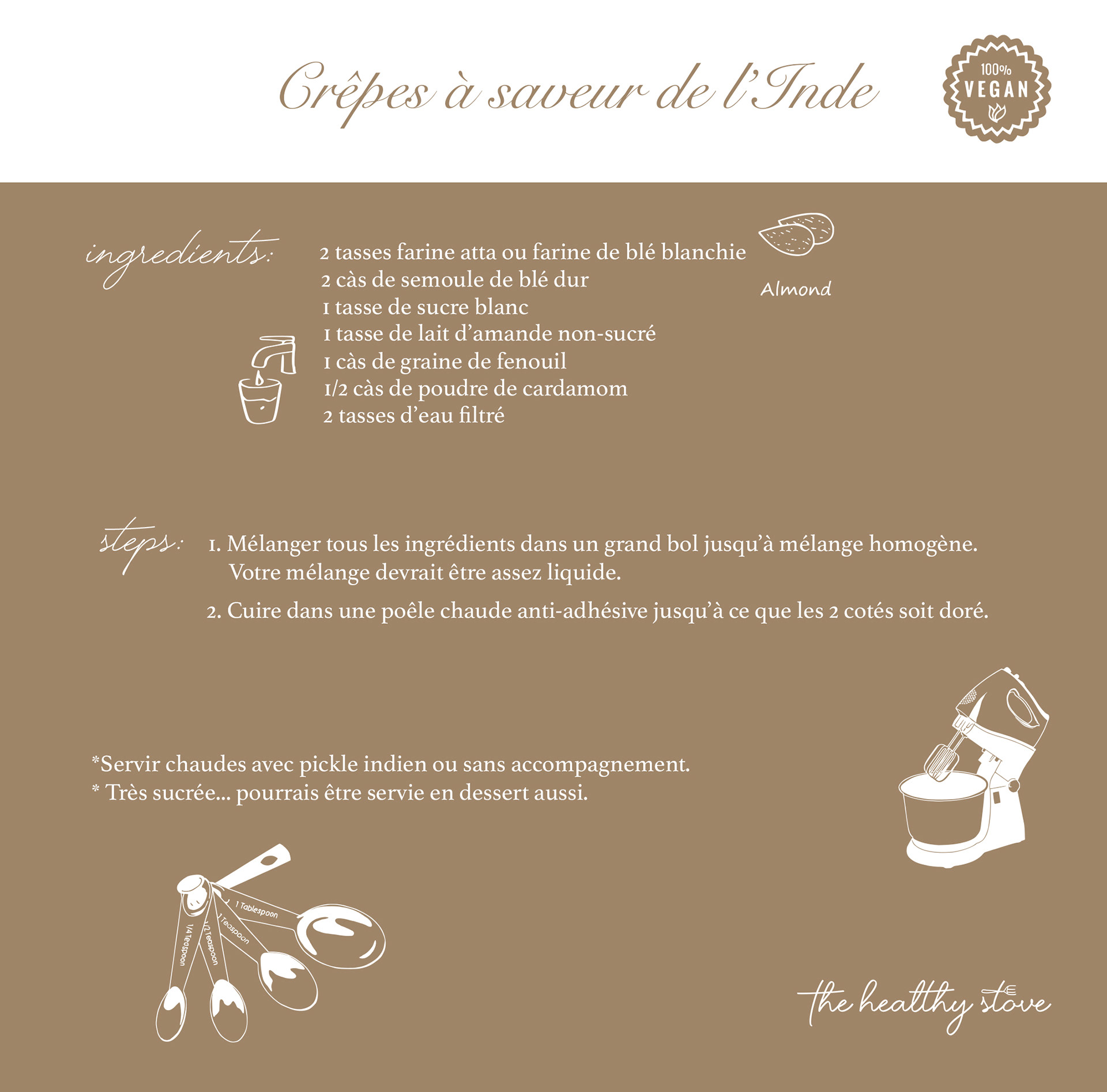 * If you make it I would love to see your work! Just tag me (
@the.healthystove
) on your recreation pictures on instagram and I would be happy to share your work on my stories.