September is here and that also means that fall is around the corner and that the weather is starting to be colder (at least in Canada). When the air gets colder I tend to reach for more warm and earthy food. I like to have a good curry, stew or soup during that time of the year to warm me up and it's so comforting as well. September not only means fall is coming it also means that cauliflowers, carrots, onions and tomatoes are in season and in abondance right now. 
I don't know about you but I prefer to cook with in season produce when I can since the taste of fresh vegetables is always the best. Plus lets be real it's also cheaper to shop in season produce which no one will complain about, right? So last week the weather started to change over here and the air is starting to be colder. It made me crave for something earthy and warm so I looked up what I had at hand in the fridge and I made this delicious healthy mix vegetable curry. It's spiced up with yellow curry powder, turmeric and black pepper which gives it an amazing bright yellowish colour that makes you want to dig right in this dish. I paired it with my vegan naans and it was the bomb! 
This recipe makes enough for 4 small portions so if you eat bigger portions or have a bigger family and want some leftovers I would suggest making a double recipe. You can store it in an air-tight container for at least 1 week. I like to pair it with vegan naan but it would also be good with basmati rice, couscous or even quinoa. I've put green peas in this recipe but you could easily swap the peas for edamame for even more protein or green bell pepper. 
Septembre est là et cela signifie aussi que l'automne approche à grands pas et que le temps commence à être plus froid (du moins au Canada). Lorsque l'air devient plus froid, j'ai tendance à vouloir manger des aliments plus chauds et plus réconfortant. J'aime avoir un bon curry, un ragoût ou une soupe à cette période de l'année pour me réchauffer et c'est aussi vraiment réconfortant. Septembre signifie non seulement que l'automne arrive, mais aussi que les choux-fleurs, les carottes, les oignons et les tomates sont de saison et en abondance en ce moment. 
Je ne sais pas pour vous mais je préfère cuisiner avec des produits de saison quand je peux car le goût des légumes frais est toujours le meilleur. De plus, soyons réalistes, il est également moins cher d'acheter des produits de saison et personne ne s'en plaindra, non? Donc, la semaine dernière, le temps a commencé à changer ici et l'air à commencé à être plus froid. Cela m'a donné envie de quelque chose de réconfortant et de chaud alors j'ai regardé ce que j'avais sous la main dans le réfrigérateur et j'ai préparé ce délicieux curry de légumes sains. Il est agrémenté de poudre de curry jaune, de curcuma et de poivre noir, ce qui lui donne une incroyable couleur jaunâtre qui vous donne envie de sauter directement dans ce plat. Je l'ai associé à mes naans végétaliens et c'était de la bombe! 
Cette recette donne assez pour 4 petites portions, donc si vous mangez de plus grandes portions ou si vous avez une famille plus nombreuse et que vous voulez des restes, je suggérerais de faire une double recette. Vous pouvez la conserver dans un contenant hermétique au réfrigérateur pendant au moins 1 semaine. J'aime l'associer avec des naan végétalien mais ce serait également bon avec du riz basmati, du couscous ou même du quinoa. J'ai mis des pois verts dans cette recette, mais vous pouvez facilement remplacer les pois par des edamame pour encore plus de protéines ou  par des poivrons vert si vous n'avez pas de petit pois.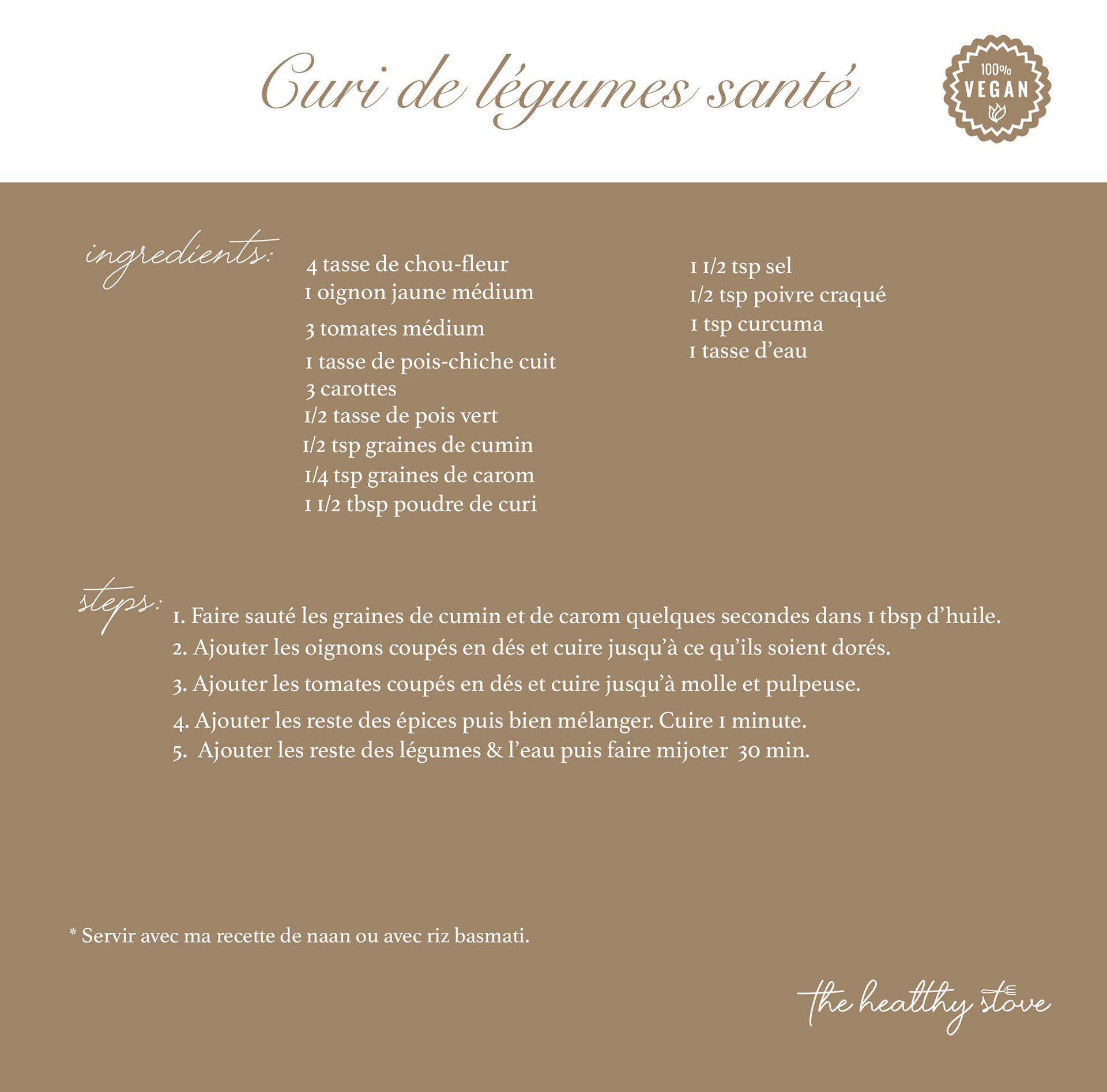 * If you make it I would love to see your work! Just tag me (
@the.healthystove
) on your recreation pictures on instagram and I would be happy to share your work on my stories.