Hi everyone! 

This week I bring you restaurant style naan but vegan. This traditional indian bread is vary famous and well known but unfortunately usually not vegan since it contains yogurt and milk and is often brushed with ghee (clarified butter). 

This bread is super soft and delicious to pair with your favourite indian dishes like lentils, chana, curries...or you can even enjoy them in the morning instead of your regular toast. Trust me this sound weird but it is absolutely delicious! So I recreated this traditional recipe completely vegan for you guys to enjoy and I am certain that you will love it ! 

If you like the garlic version you can add 2 tbsp of minced garlic to the dough to obtain a nice garlic naan. Once cooked don't forget to lightly brush them with vegan butter. You can freeze those for up to 3 months and reheat them on the stove whenever you need.
Cette semaine je vous partage ma recette de pain naan de style restaurant mais complètement végétalienne. Ce pain traditionnel de la cuisine indienne est vraiment populaire et bien connue mais n'est malheureusement pas végétalien habituellement. Ce pain traditionnel contient normalement du yogourt ainsi que du lait et parfais même du ghee ou beurre clarifié. 
Ce pain moelleux est délicieux pour accompagner une panoplie de mets indien tel que lentilles, pois-chiche, curry... ou vous pouvez même l'utiliser pour remplacer vos toast le matin. Croyez-moi cela semble étrange mais c'est un délice! Donc, j'ai recréer ce pain traditionnel pour pour qu'il soit complètement végétalien et je suis persuadée que vous allez adorer! 
Si vous aimez la version de pain naan à l'ail vous n'avez qu'à ajouter 2 tbsp d'ail à la pâte. Une fois cuit de chaque cotée n'oublier pas de les beurrer légèrement de beurre végane. Vous pouvez conserver ces pains naan au congélateur jusqu'à 3 mois et les faire réchauffer dans une poêle lorsque vous en avez besoin.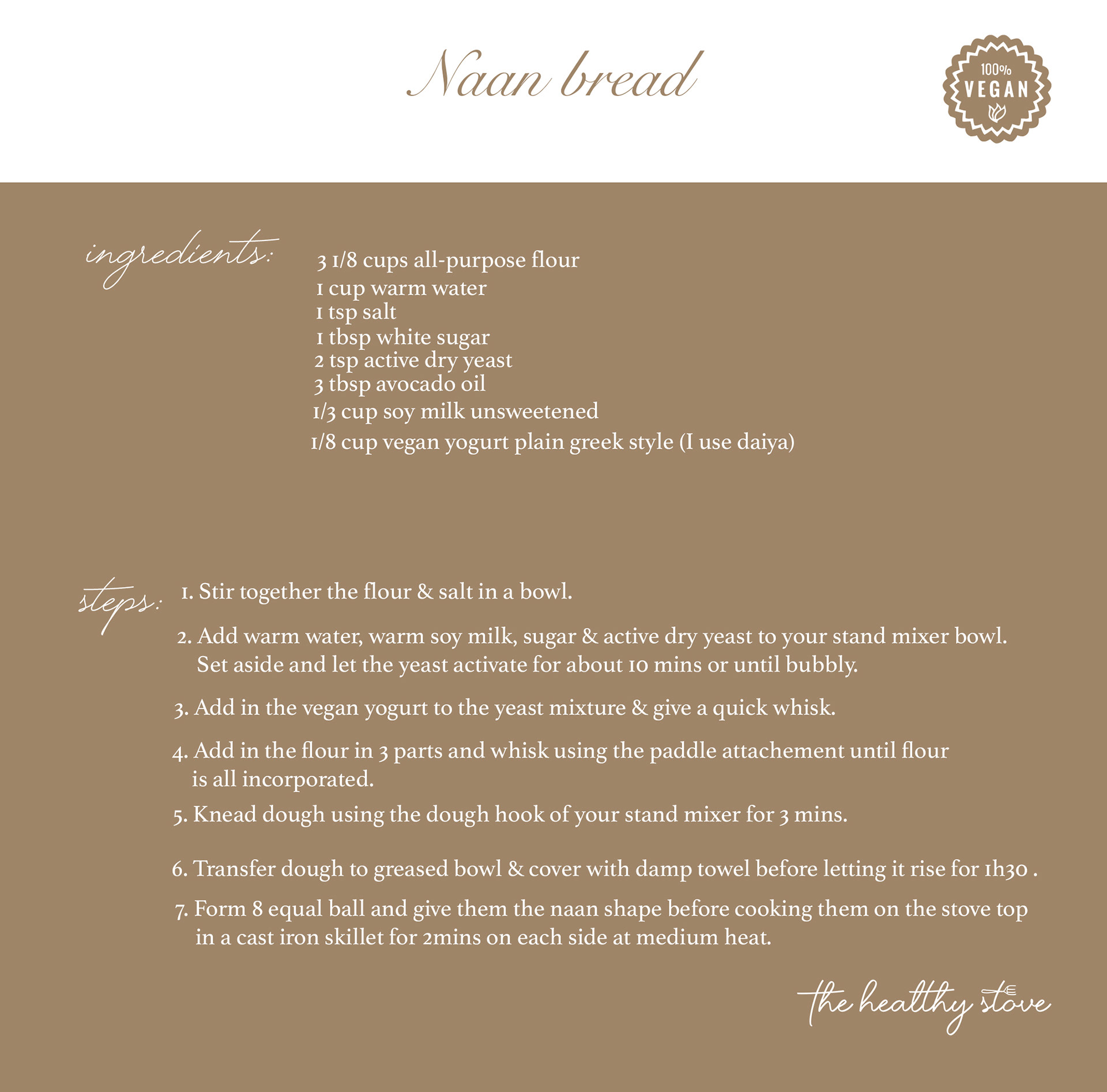 * If you make it I would love to see your work! Just tag me (
@the.healthystove
) on your recreation pictures on instagram and I would be happy to share your work on my stories.