I don't know about you guys but in my house I have sooo many cauliflowers right now that I could seriously survive on cauliflower from the whole month. Don't get me wrong I love cauliflowers but sometimes it can get boring if you only have a few recipes to use them even more when all those recipes are all a little bit the same. Right? So I wanted to switch things a little bit and what's better than some finger food and a bunch of spices for that. 
This recipe is crispy, spicy and versatile. You can either enjoy it on it's own or put it inside tacos or even curries. Gobi pakora are basically cauliflower fritter. It is very popular in India as a snack that you can even get from street vendors. These pakora makes for a good crispy snack that's packed with flavours. I like to make tacos sometimes with them as well and trust me it makes amazing tacos. 
They are fairly easy to make. I like to shallow fry mine in a pan but you can also air-fry them or deep fry them depending on how much or how little oil you want to use. If you make them in the air-fryer I would suggest you to reduce the amount of water in this recipes since you'll need a somewhat thicker batter. I tried it myself and it makes for some surprisingly very crispy pakora. 
You can easily make a bunch of them in advance and warm them up in the oven or in the air-fryer before serving them. They will stay crispy and they will be just as good. 
Je ne sais pas pour vous les gars, mais chez moi, j'ai tellement de choux-fleurs en ce moment que je pourrais sérieusement survivre avec du chou-fleur pendant tout le mois. Ne vous méprenez pas, j'adore les choux-fleurs, mais parfois cela peut devenir ennuyeux si vous n'avez que quelques recettes pour les utiliser encore plus alors que toutes ces recettes sont toutes un peu les mêmes. N'est-ce pas? Je voulais donc changer un peu les choses et quoi de mieux que des amuse-gueules et un bouquet d'épices pour ça.
 Cette recette est croustillante, épicée et polyvalente. Vous pouvez la déguster seul ou la mettre dans des tacos ou même dans des currys. Les gobi pakora sont essentiellement des beignets de chou-fleur. Ils sont très populaire en Inde comme collation et il est même possible de les obtenir chez les vendeurs de rue. Ces pakora constituent une bonne collation croustillante et pleine de saveurs. J'aime faire des tacos parfois avec eux aussi et croyez-moi, cela fait des tacos incroyables. 
Ils sont assez faciles à réaliser. J'aime faire frire les miens dan un peu d'huile dans une poêle, mais vous pouvez également les faire frire à la friteuse à air ou dans une friteuse en fonction de la quantité d'huile que vous souhaitez utiliser. Si vous les faites dans la friteuse à air, je vous suggère de réduire la quantité d'eau dans cette recette, car vous aurez besoin d'une pâte un peu plus épaisse. Je l'ai essayé moi-même et cela donne une pakora étonnamment très croustillant. 
Vous pouvez facilement en préparer un tas à l'avance et les réchauffer au four ou dans la friteuse à air avant de les servir. Ils resteront croustillants et ils seront tout aussi bons.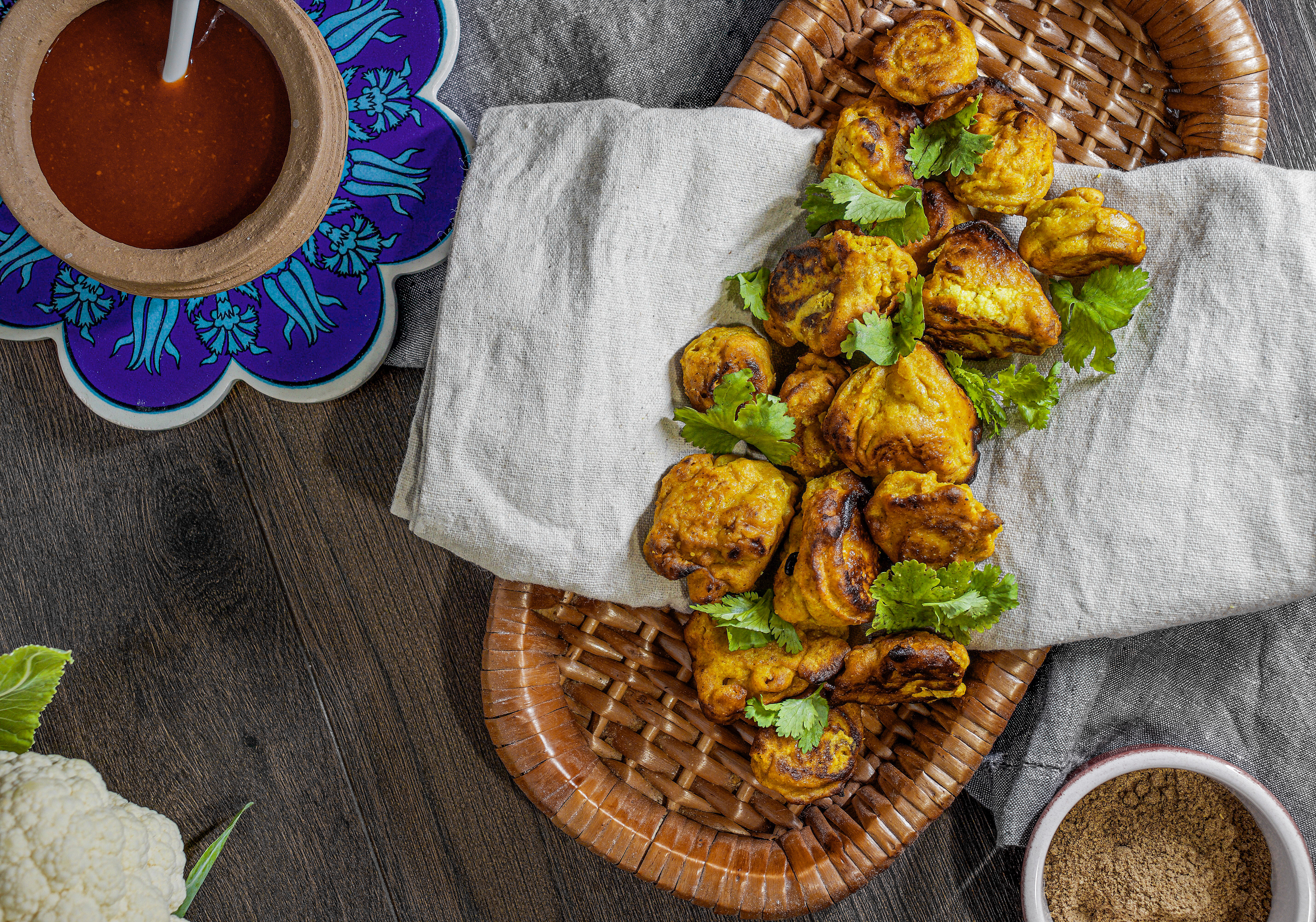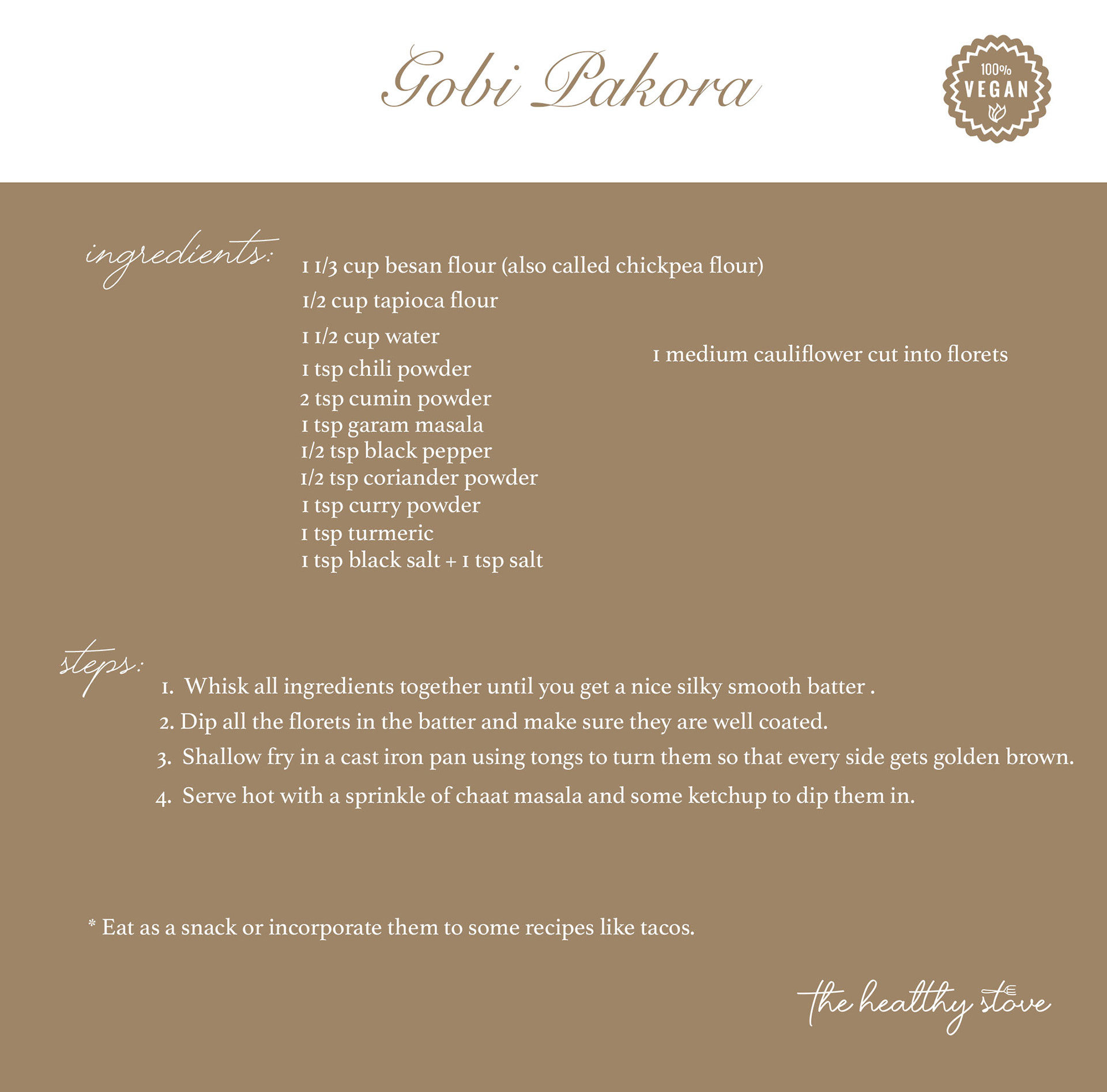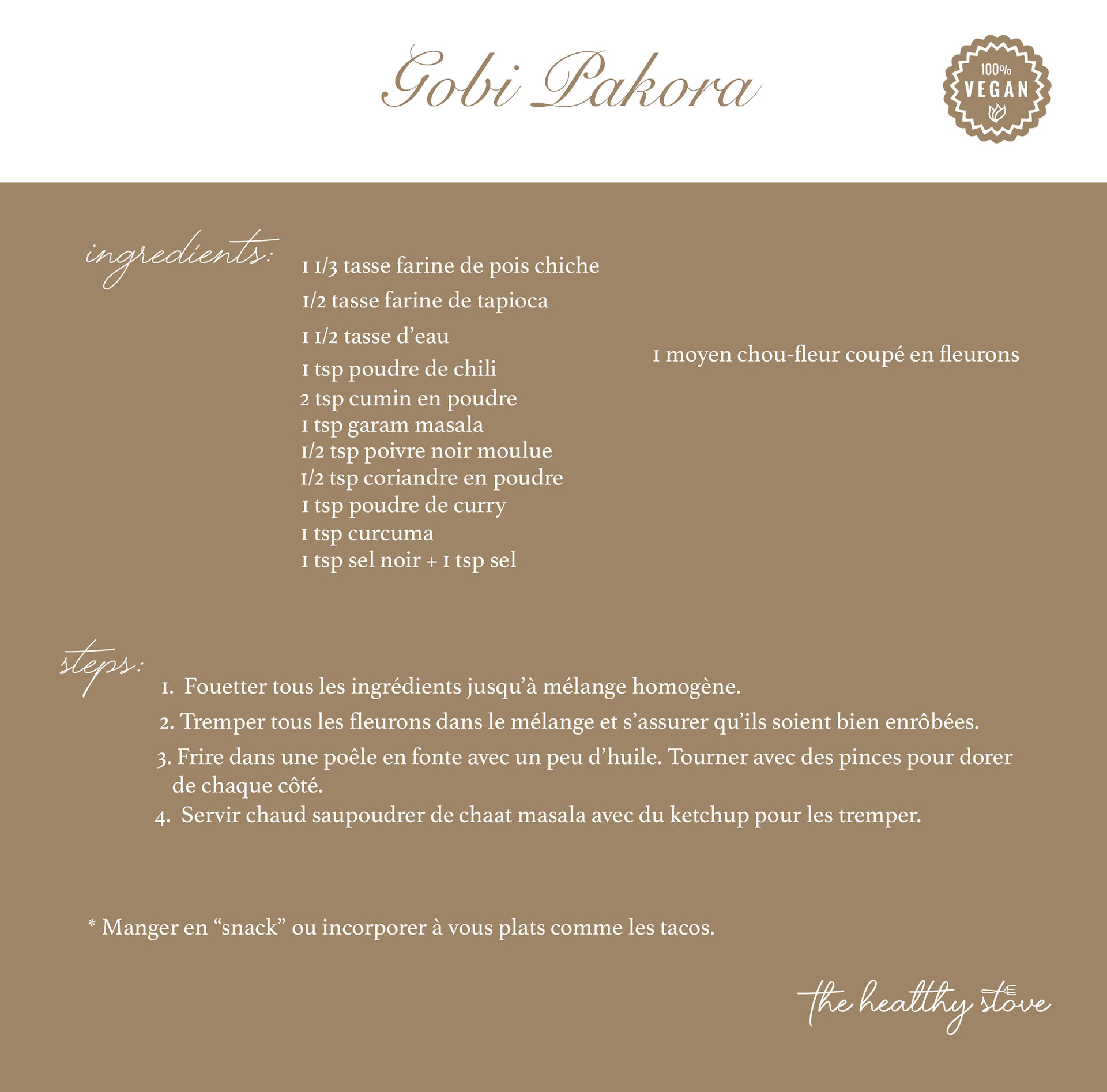 * If you make it I would love to see your work! Just tag me (
@the.healthystove
) on your recreation pictures on instagram and I would be happy to share your work on my stories.