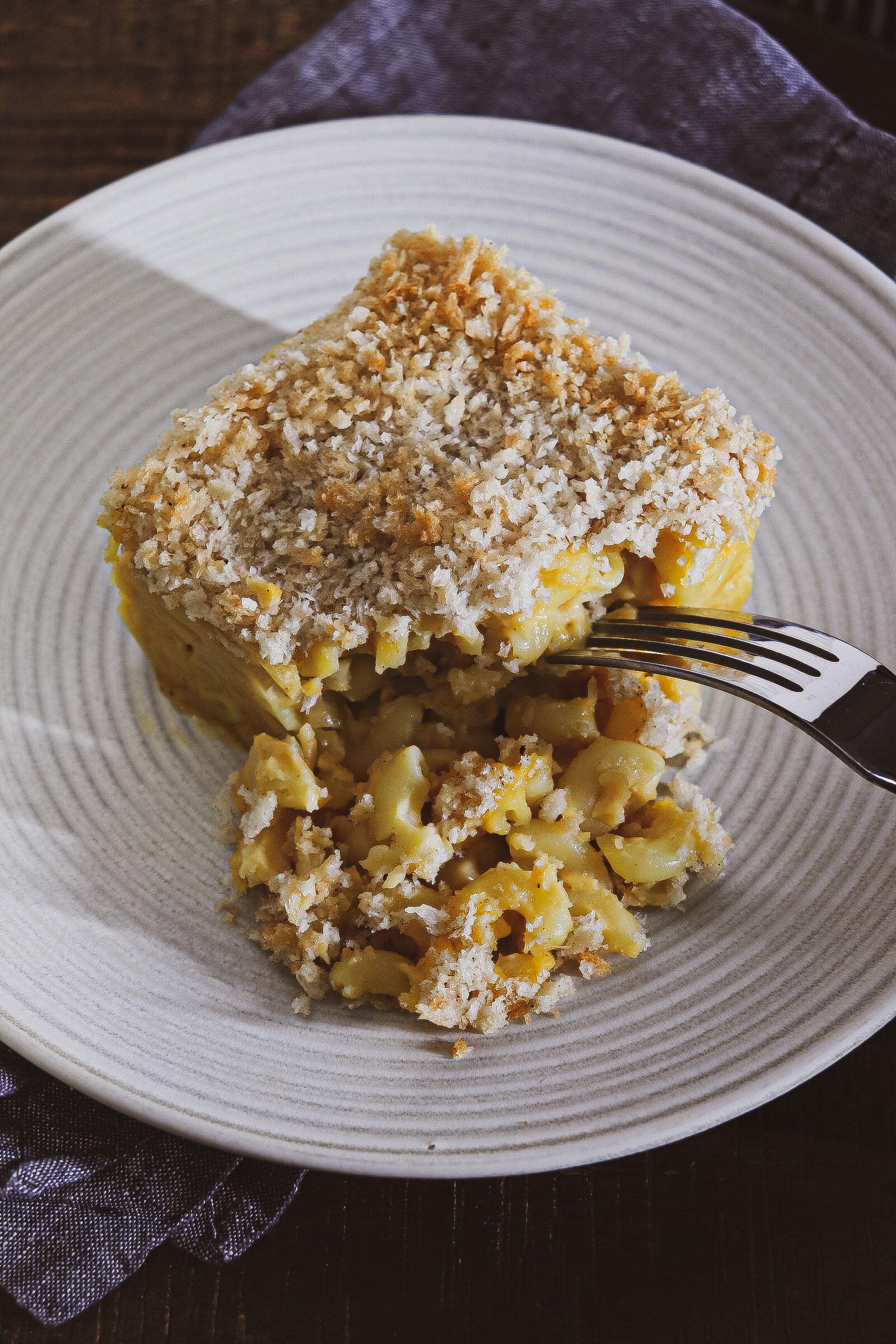 Happy weekend to all of you!
The past day I was in need of some comfort so what better than make a big plate of mac n'cheese to warm up the soul and instantly lift up your mood right? This recipe brings comfort and nostalgia all at ounce while being incredibly tasty and not too hard to make either. I mean it's not mac n' cheese in a box easy but it is not super hard to make either and the reward is definitely worth the extra work trust me.
This may not be the healthiest vegan mac n'cheese that you'll come across online but who cares?! After all since when mac n'cheese was ever healthy it's supposed to be a comfort food not a health one so I kept it this way and oh my the taste of this one will for sure bring you back to childhood when your mom (or your dad) used to make some oven baked mac n'cheese.  
It's nostalgic…brings comfort…is delicious in the mouth…it's comfort food perfection!
Let me know how you like it in the comments below if you try it out. 

Bon week-end à vous tous !
L'autre jour, j'avais besoin d'un peu de confort, alors quoi de mieux que de faire une grande assiette de mac n'cheese pour réchauffer l'âme et élever instantanément votre humeur, n'est-ce pas ? Cette recette apporte confort et nostalgie en même temps tout en étant incroyablement savoureuse et pas trop difficile à faire non plus. Je veux dire… ce n'est pas aussi facile que du macaroni au fromage dans une boîte mais ce n'est pas super difficile à faire non plus et la récompense vaut vraiment le travail supplémentaire, croyez-moi.
Ce n'est peut-être pas le mac n'cheese végétalien le plus sain que vous verrez en ligne, mais qui s'en soucie ?! Après tout, depuis quand le mac n'cheese est supposé être sain ? C'est supposé être un aliment réconfortant et non sain, alors je l'ai gardé de cette façon et le goût de celui-ci vous ramènera certainement en enfance lorsque votre mère (ou votre père) faisait du mac n'cheese cuit au four.
C'est nostalgique... apporte du confort... c'est délicieux en bouche... c'est la perfection de la nourriture réconfortante !
Faites-moi savoir comment vous l'aimez dans les commentaires ci-dessous si vous l'essayez.