It's a brand new week starting and I have a brand new recipe for you to enjoy this week. I really enjoy cooking beans during the week because to me they are the perfect nutritious meal to get the energy I need during the week. Legumes are packed of nutrients and they taste good when you prepare them the right way. If you only take them out from a can and start eating them straight up like that you will for sure not enjoy them but if you add the right spices you will end up with a delicious and nutritious meal that will fuel your body with plenty of energy. 
Legumes in a vegan diet are also important since they are a good source of iron and protein. As a vegan and a women it's important for me to get in enough iron in my diet and I like to do it by eating all kinds of legumes to make sure I take in enough iron to feel my best. Low iron can really make you feel tired and sluggish so it's important to get enough of it in your diet. 
This recipe is one of my favourite way to eat my beans. This one is made out of rajma beans or kidney beans in english and is loaded with spices that creates a beautiful burst of flavours with each and every bite. It is on the spicier side so if you are not a fan of spicy food I would suggest you to reduce the amount of red chili powder that this recipe contain to adjust it to your spice level. It is to eat with rice so keep in mind that the rice will lower the spiciness of this recipe as well. 

Rajma masala is best enjoy with plain basmati rice since it's on the saucier side but you could also pair it with brown rice, quinoa or even couscous. The little plus of this recipe is that it tastes even better on the next day and that way is perfect to enjoy as leftover for your lunch. 
C'est une semaine toute neuve qui débute et j'ai une nouvelle recette pour vous cette semaine qui je l'espère vous aimerez. J'aime vraiment faire cuire des légumineuses durant la semaine puisque pour moi elles sont la façon parfaite d'avoir un bon repas nutritif pour me donner de l'énergie durant la semaine. Les légumineuses sont remplies de nutriments et sont délicieuses lorsque apprêté de la bonne façon. Si vous ne faites que les sortir d'une boite de conserve et les mangez direct sortie de la boite, vous allez probablement trouvez que ça n'as aucun goût. Cependant, si vous y ajoutez les bonnes épices, vous vous retrouverez certainement avec un plats délicieux et remplie de saveur. 
Les légumineuses sont importantes à incorporer dans une alimentation végétalienne puisqu'elle sont une bonne source de fer et de protéines. En tant que femme végétalienne, il est important pour moi de manger assez de fer en mangeant une variété de légumineuse pour être certaine de me sentir au top. Le manque de fer peut nous faire sentir fatigué et plutôt léthargique donc il est important d'en manger assez dans notre alimentation. 
Cette recette, est l'une de mes façons favorites de manger des légumineuses. Celle-ci est faite à base de rajma ou haricots rouge en français et est remplie d'épices qui assurent une explosion de saveur avec chaque bouchée. Ce plat est plutôt épicée donc si vous ne tolérer pas bien les épices, je vous suggère de diminuer la dose de poudre de chili rouge selon votre tolérance aux épices. Garder en tête que ce plat se mange avec du riz qui diminueras le coté épicé. 
Le rajma masala est normalement accompagnée de riz basmati puisque c'est un plat qui est plus liquide mais vous pouvez aussi le manger accompagné de riz brun, de quinoa et même de couscous. Un autre petit plus est le fait que cette recette est encore meilleure le lendemain ce qui en fait le parfait restant pour le lunch.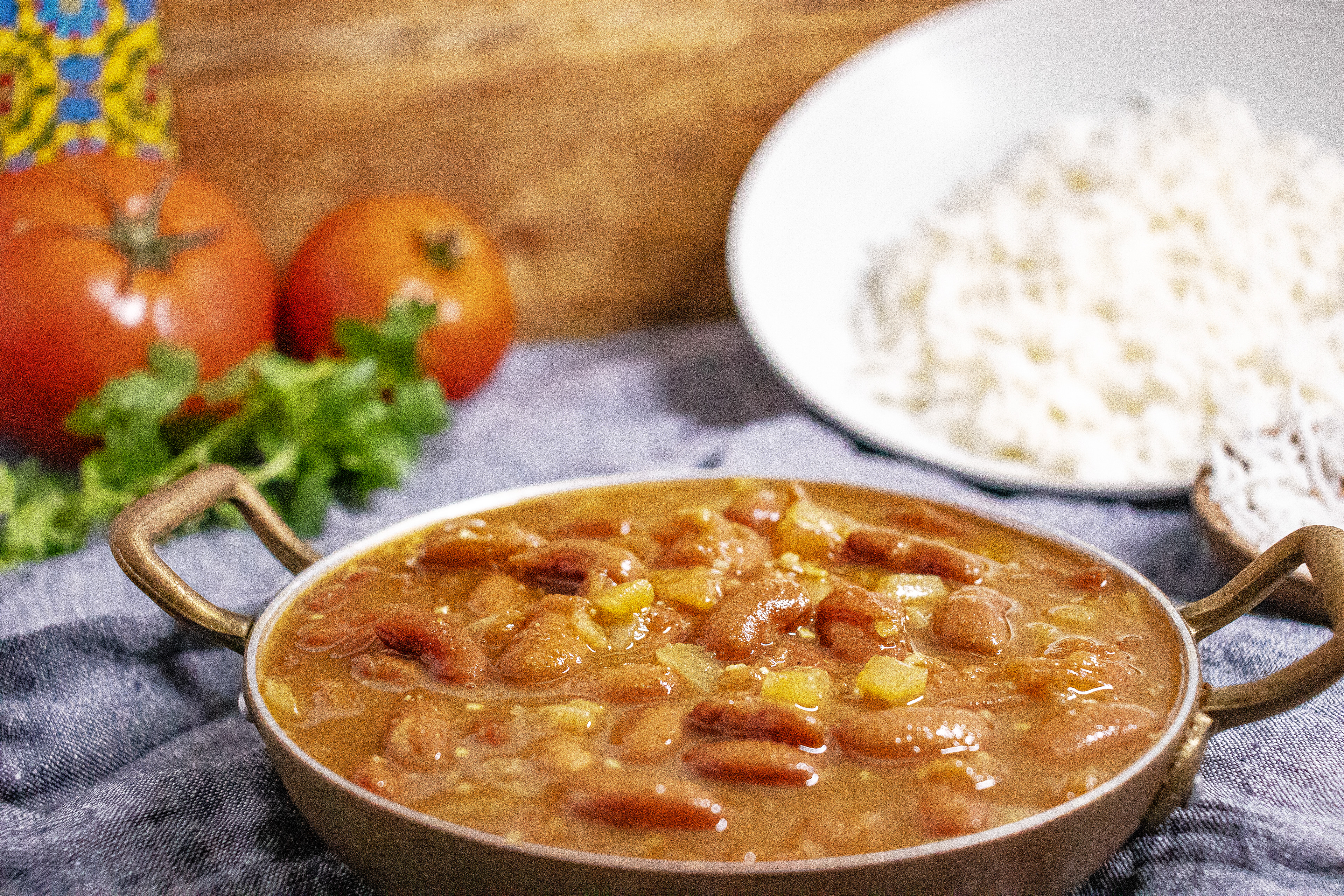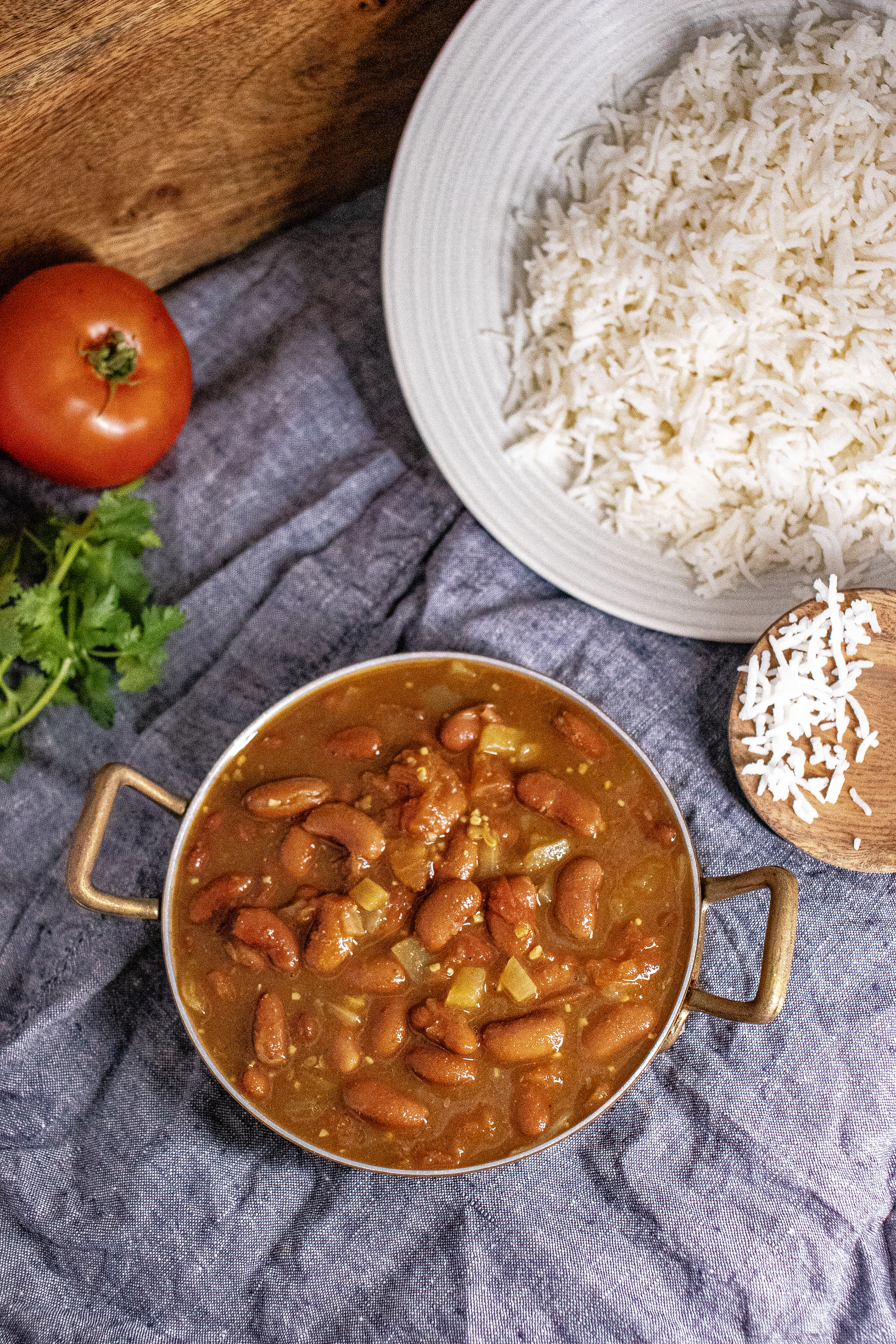 * If you make it I would love to see your work! Just tag me (
@the.healthystove
) on your recreation pictures on instagram and I would be happy to share your work on my stories.