I really enjoy fall for it's colour, crisp air, crunchy leaves all over the streets, the cozy clothes and the in season fruits and vegetables. To me autumn is the time to ground yourself a little bit more and to take time to appreciate slowing down and eating comforting warm meals that feels like a big hug for the soul. You know those warm soup and stews and one pot pastas...etc. 
This recipe is just perfect for fall since it's warm earthy and oh so comforting by still being healthy. I feel like it's also a great option for your halloween dinner since it's basically eating out of a mini pumpkin. It's fairly easy and quick to make and packed of incredible flavours. It's sweet and spicy with a little crunchiness from the nuts. 
This meal is very filling and full of proteins thanks to the quinoa. If you are someone that doesn't like plain quinoa don't be repulsed by this recipe since it has so much flavours that I can guarantee you that this recipe will make you love quinoa. It's a recipe that will leave you satisfy without a doubt. They are also good to make in advance and reheat in the oven on the day you want to enjoy them. Makes them perfect for meal prepping if you are into that at all. 
Anyhow I would really recommend you to give this recipe a try because you'll be surprised on how good squash can be. My husband who is not a fan at all of quinoa and squash actually loves these so you can be sure that your family will be pleasantly surprised with this recipe. Each and every bite is packed with flavour that will wrap you up in these warm cozy autumn feels. 
J'aime vraiment l'automne pour ses coureurs, son air vif, ses feuilles croquantes partout dans les rues, ses vêtements confortables et ses fruits et légumes de saison. Pour moi, l'automne est le moment de se recentrer un peu plus et de prendre le temps d'apprécier de ralentir et de manger des plats chauds réconfortants qui sont comme un gros câlin pour l'âme. Vous savez ces soupes et ragoûts chauds et ces "one-pot" pâtes... etc.
Cette recette est tout simplement parfaite pour l'automne car elle est chaude et earthy et tellement réconfortante en étant bonne pour la santé. Je pense que c'est aussi une excellente option pour votre souper d'Halloween, car il s'agit essentiellement de manger dans une mini citrouille. Elle est assez facile et rapide à faire et regorge de saveurs incroyables. Cette recette est sucré et épicé avec un peu de croquant à cause des noix. 
Ce repas est très copieux et riche en protéines grâce au quinoa. Si vous n'aimez pas le quinoa nature, ne soyez pas repoussé par cette recette car elle a tellement de saveurs que je peux vous garantir que cette recette vous fera aimer le quinoa. C'est une recette qui vous satisfera sans aucun doute. Elles sont également bonnes à préparer à l'avance et à réchauffer au four le jour où vous souhaitez les manger. Ça les rend parfaites pour la préparation en avance des repas si cela vous plaît.
Quoi qu'il en soit, je vous recommande vraiment d'essayer cette recette car vous serez surpris de voir à quel point la courge peut être bonne. Mon mari qui n'est pas du tout fan de quinoa et de courge les adorent, vous pouvez donc être sûr que votre famille sera agréablement surprise par cette recette. Chaque bouchée regorge de saveurs qui vous envelopperont de ces douces sensations d'automne.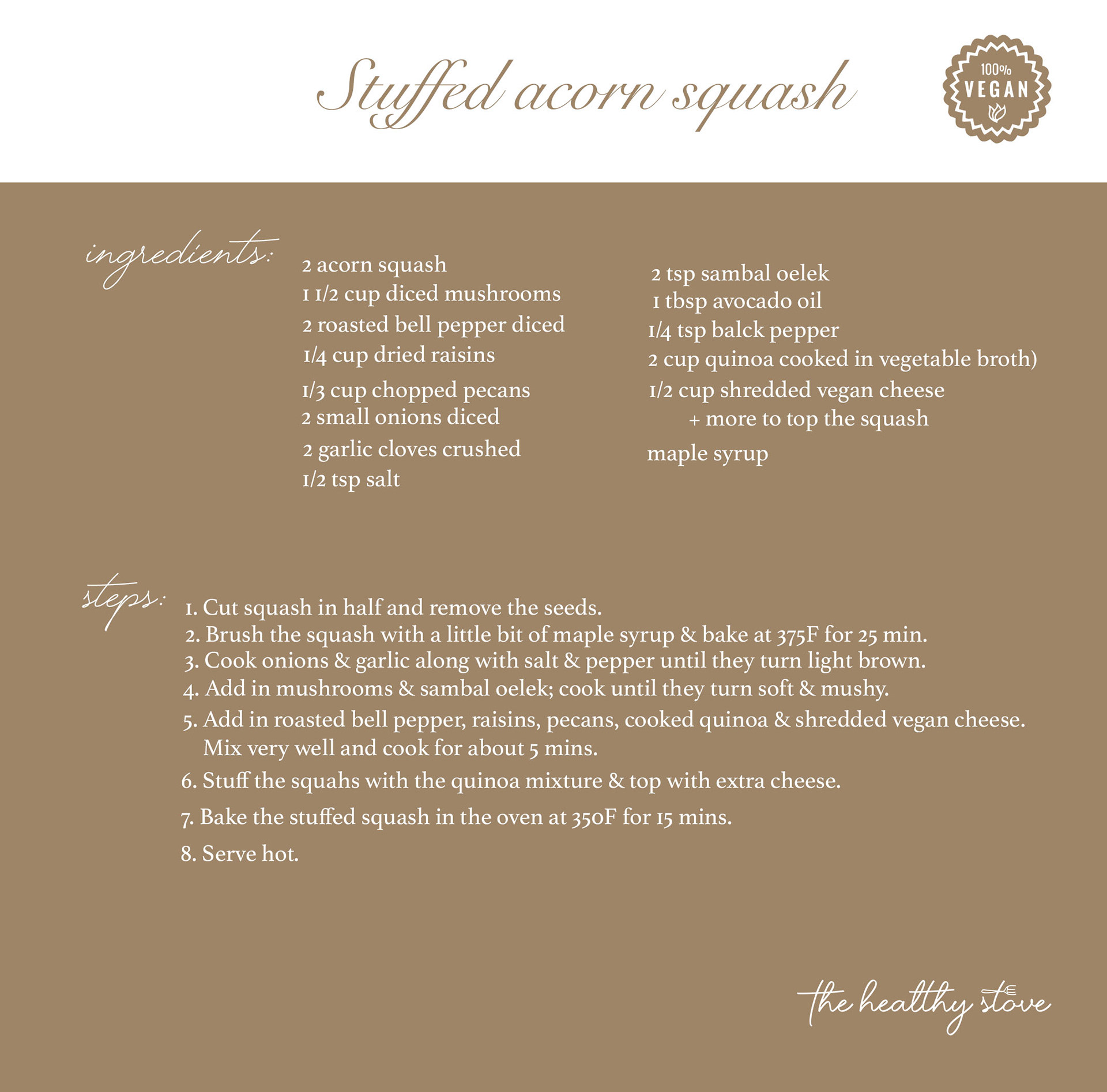 * If you make it I would love to see your work! Just tag me (
@the.healthystove
) on your recreation pictures on instagram and I would be happy to share your work on my stories.