Happy Tuesday! 

It's officially autumn and all root vegetables are now in season which means fresher and at a better price too. It's time to stock up on all these veggies and to get creative in the kitchen to make the best use out of them. Of course there's the traditional stews, soups and pies but sometimes it's good to go outside of our comfort zone a little and experiment with new recipes and new flavours. This recipe is famous in north india where it's originated from. Aloo kulcha is basically a flat bread stuffed with a spicy potato filling and lightly brushed with ghee. It's typically eaten as breakfast, lunch or as a brunch. It is served hot straight out from the oven with plain yogurt and indian pickles.
This recipe will bring your potatoes and onions to good use. The filling of these kulcha is on the spicier side so I would suggest you to put less red chili powder if you are someone that doesn't tolerate spicy food that good. It will be as tasty just less spicy. If you are a fan of spicy food tho you might want to spice it up even more so you can really play with the spiciness by putting less or more red chili powder. 
These kulcha will get puffy and very crispy in the oven. Make sure to bake them until they get golden brown spots on them since that indicates that they'll be crispy. I like to brush mine very lightly with vegetable ghee as soon as I get them out of the oven right before serving them but this is optional although recommended. If you want to turn down the spiciness and add some freshness to this dish I would highly recommend to eat them with a side of plain unsweetened vegan yogurt. The combo of aloo kulcha and vegan plain yogurt is perfection trust me.
C'est officiellement l'automne et tous les légumes-racines sont maintenant de saison, ce qui signifie qu'ils sont plus frais et à un meilleur prix aussi. Il est temps de faire le plein de tous ces légumes et de faire preuve de créativité dans la cuisine pour en tirer le meilleur. Bien sûr, il y a les ragoûts traditionnels, les soupes et les tartes, mais parfois il est bon de sortir un peu de notre zone de confort et d'expérimenter de nouvelles recettes et de nouvelles saveurs comme avec ces Aloo Kulcha. Cette recette est célèbre dans le nord de l'Inde, d'où elle est originaire. Aloo kulcha est essentiellement un pain plat farci d'une garniture de pommes de terre épicée et légèrement badigeonné de ghee. Il est généralement consommé au petit-déjeuner, au déjeuner ou au brunch. Il est servi chaud tout droit sorti du four avec du yogourt nature et des cornichons indiens. 
Cette recette fera bon usage de vos pommes de terre et oignons. La garniture de ces kulcha est plutôt épicée, je vous suggère donc de mettre moins de poudre de piment rouge si vous êtes quelqu'un qui ne tolère pas les plats épicés aussi bien. Ce sera aussi savoureux juste moins épicé. Si vous êtes amateur de plats épicés, vous voudrez peut-être les pimenter encore plus. Vous pouvez vraiment jouer avec le piquant en mettant moins ou plus de poudre de piment rouge. 
Ces kulcha deviendront gonflés et très croustillants au four. Assurez-vous de les cuire jusqu'à ce qu'ils aient des taches dorées sur eux, car cela indique qu'ils seront croustillants. J'aime badigeonner les miens très légèrement de ghee végétal dès que je les sors du four juste avant de les servir, mais c'est facultatif bien que recommandé. Si vous voulez baisser le piquant et ajouter de la fraîcheur à ce plat, je vous recommande vivement de les manger avec un côté de yogourt végétalien non sucré. La combinaison d'aloo kulcha et de yogourt nature végétalien est la perfection, croyez-moi.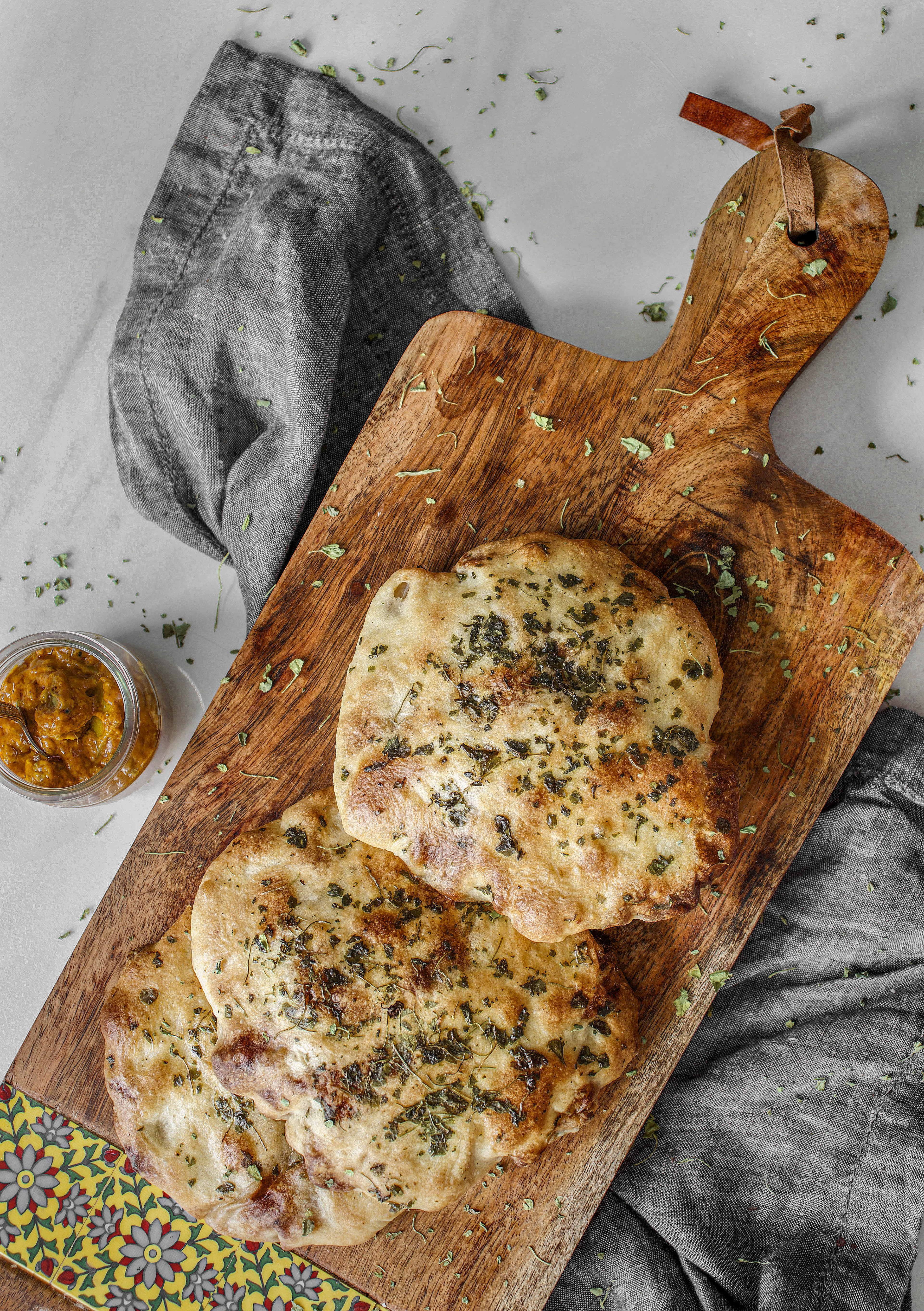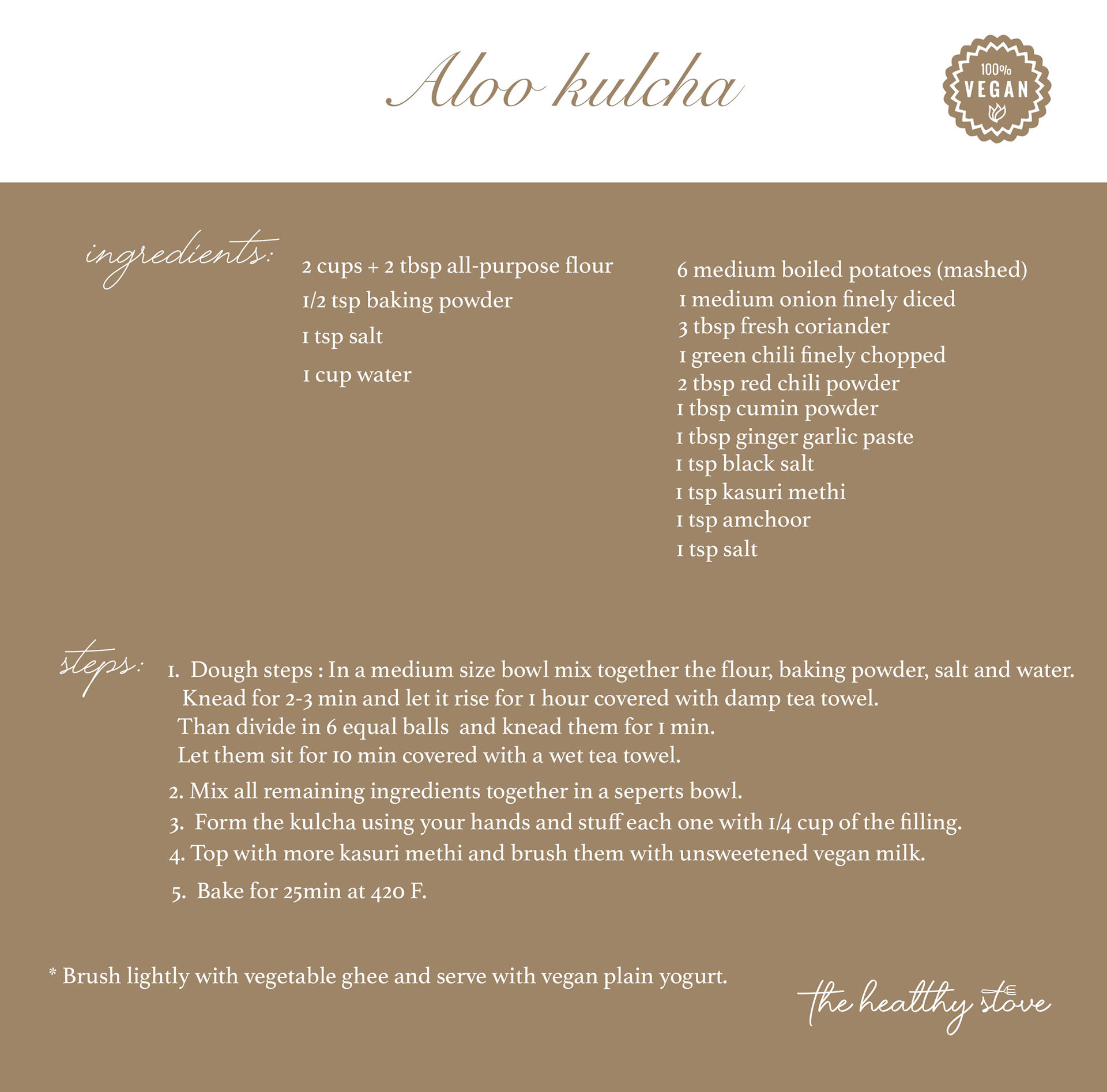 * If you make it I would love to see your work! Just tag me (
@the.healthystove
) on your recreation pictures on instagram and I would be happy to share your work on my stories.