This is the recipe I use all the time to make people like tofu. I swear this recipe will convince even the most sceptical non-vegan that tofu is good and not tasteless. This is the perfect recipe to make when you invite friends or family over and you want to make something that everyone will enjoy around the table...vegan or not. 
This tofu tao is full of flavours and has a sweet, sour and spicy taste to it. The tofu itself is crispy which gives it a little something more that makes it even better. If you like a good saucy general tao you will love this one since it's super saucy. 
I like to top mine with some crushed peanuts for another depth of flavour and a little crunch. I find it taste best on top of vermicelli noodles but if you prefer rice you can also eat it with some rice. 
Trust me and give this recipe a try. I'm sure you wont regret it and that you'll be able to convince people that tofu isn't bad. Be aware though that you and your family might get addicted to it. You might have to make this recipe very often. 
Ceci est la recette que j'utilise tout le temps pour faire aimer le tofu. Je jure que cette recette convaincra même les non-végétaliens les plus sceptiques; que le tofu est bon et non sans goût. C'est la recette parfaite à faire lorsque vous invitez des amis ou de la famille et que vous voulez faire quelque chose que tout le monde appréciera autour de la table ... végétalien ou non.
 Ce tofu tao est plein de saveurs et a un goût sucré, aigre et épicé. Le tofu lui-même est croustillant, ce qui lui donne un petit quelque chose de plus qui le rend encore meilleur. Si vous aimez un bon général tao plein de sauce, vous allez adorer celui-ci car il est vraiment très sauceux. 
J'aime garnir le mien de quelques arachides écrasées pour une autre profondeur de saveur et un peu de croquant. Je trouve qu'il a meilleur goût sur des nouilles vermicelles, mais si vous préférez le riz, vous pouvez également le manger avec du riz.
 Faites-moi confiance et essayez cette recette. Je suis sûr que vous ne le regretterez pas et que vous serez en mesure de convaincre les gens que le tofu n'est pas mauvais. Sachez cependant que vous et votre famille pourriez en devenir accro. Vous devrez peut-être faire cette recette très souvent.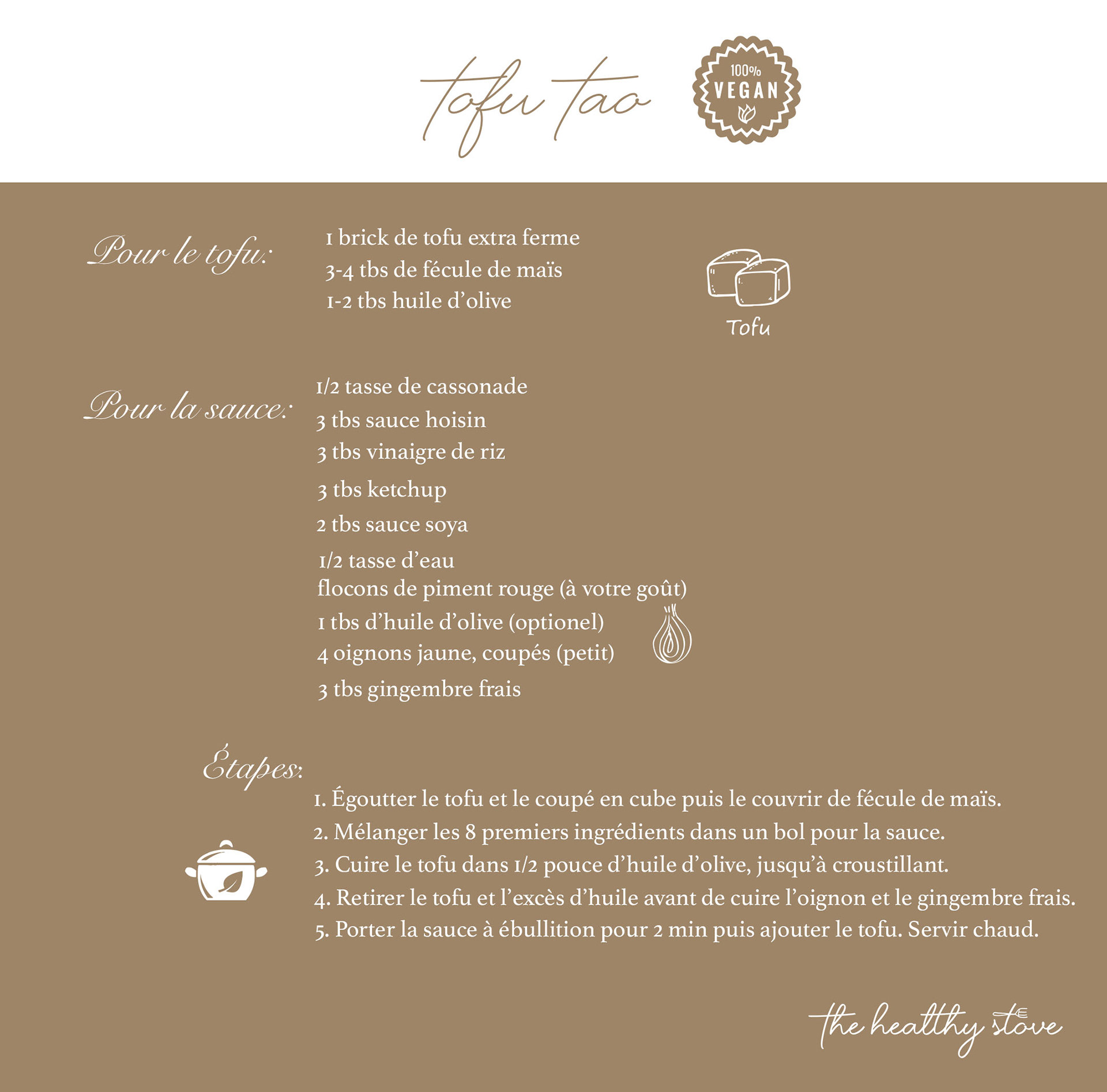 NOTES:
Delicious on top of white rice or rice vermicelli. 
You can also add crushed peanut on top. 
The tofu will get golden brown once crispy. 
Make sure you cook the onion and ginger until raw smell is gone or until the onion get translucent. 
* If you make it I would love to see your work! Just tag me (@the.healthystove) on your recreation pictures on instagram and I would be happy to share your work on my stories.