So I recently discovered a new product that I had never heard of before. Do you know what's water lentils or  just like me it is something fairly new to you as well? If you are like me you are probably asking yourself water what? In short water lentil is a plant that grows on top of water which contains a bunch of good benefits for overall health. It's rich in iron, antioxydants, protein and even B12. Yes, water lentil is a good source of 100% plant based B12. Than you are probably like; Ok that's good but what about the taste? If you're also not a fan of spirulina taste you are probably scared that this is going to be tasting just as awful. You'll be amazingly surprised that this product taste really good and just like matcha. Up to me, this is a major win since I absolutely love matcha. 
The powder is good on it's own just diluted in some water but what's the fun of drinking it in water only when you can make a coconut flavoured bubble tea instead. This recipe is easy, quick and trust me taste amazingly good while providing a lot of benefits. I don't know about you but I like when something makes me feel my best and taste amazing too since then you don't have to gulp the thing with your nose closed to avoid tasting it (aka what I used to do with spirulina powder).
If you are a fan of matcha and bubble tea well you will absolutely love this recipe. You can easily get the tapioca pearl at your local asian store or on amazon. For the water lentil powder you can get it on SETA . This company is Canadian and conscious of the environment. They make sure that the water lentil is produce in a way that is respectful of the environment and organic. I also really like the fact that their goal is to help people transition towards a more plant based way of eating more easily by offering a product that replace animal produce B12 and protein by a completely vegan one. 
J'ai donc récemment découvert un nouveau produit dont je n'avais jamais entendu parler auparavant. Savez-vous ce que sont les lentilles d'eau ou tout comme moi, c'est quelque chose d'assez nouveau pour vous? Si vous êtes comme moi, vous vous demandez probablement de la lentille de quoi? En bref, la lentille d'eau est une plante qui pousse au-dessus de l'eau qui contient un tas de bons avantages pour la santé globale. Elle est riche en fer, en antioxydants, en protéines et même en vitamine B12. Oui, la lentille d'eau est une bonne source de B12 100% végétale. Vous êtes probablement; Ok c'est bien mais qu'en est-il du goût? Si vous n'êtes pas non plus fan du goût de la spiruline, vous avez probablement peur que ce soit tout aussi horrible. Vous serez étonnamment surpris que ce produit ait vraiment bon goût et qu'il ait un goût comme le matcha. Pour moi, c'est une victoire majeure puisque j'adore le matcha. 
La poudre est bonne seule, juste diluée dans de l'eau, mais quel est le plaisir de la boire dans de l'eau uniquement lorsque vous pouvez faire un bubble tea à la noix de coco à la place. Cette recette est facile, rapide et croyez-moi, elle a un goût incroyablement bon tout en offrant de nombreux avantages. Je ne sais pas pour vous mais j'aime quand quelque chose me fait me sentir mieux et avoir un goût incroyable aussi puisque vous n'avez pas à avaler la chose avec le nez fermé pour éviter de la goûter (c'est-à-dire ce que je faisais avec la poudre de spiruline ). Si vous êtes fan de matcha et de thé à bulles, vous allez adorer cette recette. Vous pouvez facilement obtenir la perle de tapioca dans votre magasin asiatique local ou sur Amazon. Pour la poudre de lentilles d'eau, vous pouvez l'obtenir chez SETA. 
Cette entreprise est canadienne et soucieuse de l'environnement. Elle s'assure que la lentille d'eau est produite d'une manière respectueuse de l'environnement et biologique. J'aime aussi beaucoup le fait que leur objectif soit d'aider les gens à faire la transition vers une façon de manger plus végétale en proposant un produit qui remplace la B12 et les protéines animales par un produit complètement végétalien.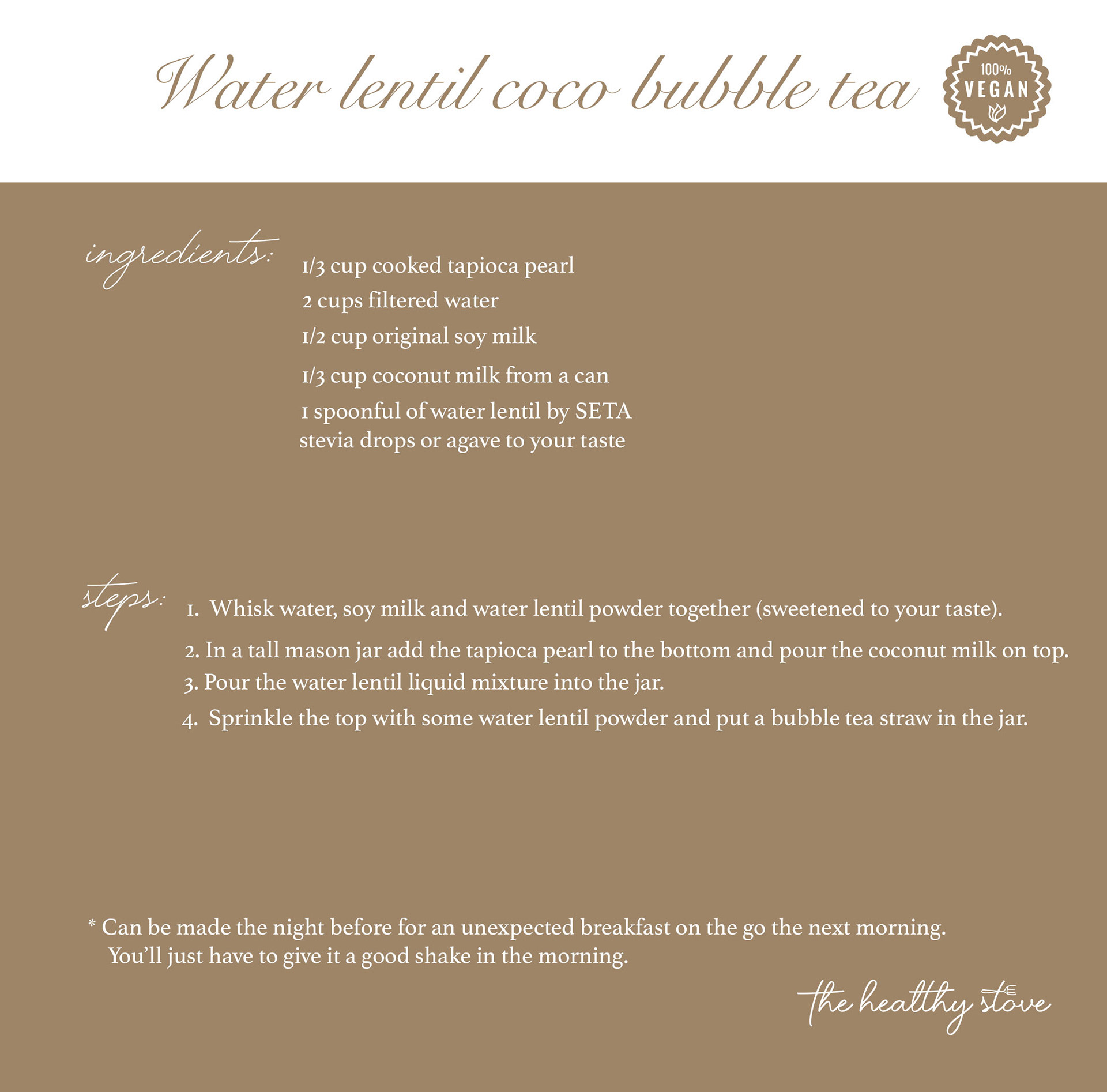 * If you make it I would love to see your work! Just tag me (
@the.healthystove
) on your recreation pictures on instagram and I would be happy to share your work on my stories.