Are you also overwhelmed sometimes by the work you have to handle during the week? And then you come home and you feel like work is still going on because you have to jump on dinner making for your family and you don't have even one minute for yourself to sit and breath a little bit after that long day ? If you see yourself in there well let me tell you that you are not alone and that their is a way to make your dinner experience smoother. Want to know how ? The trick is to cook things that are quick and easy and that requires only a small amount of actual work. 
So today, I have a busy week friendly recipe that the entire family will enjoy and the cook will be grateful to have some time to sit down a little bit while it cooks in the oven. This spinach square recipe takes about 10 min to assemble and 35-40 min of baking in the oven where you'll get time to breath a little. The longest part is probably to chop the onions and if you have a food processor I suggest you chop them in there to make your life even easier. 
In terms of flavours this recipe is herby, cheesy, creamy, chewy and basically like a savoury brownie if you'd like. This recipe calls for some chia-eggs and I want you to make sure you use ground chia and not flax-eggs. The reason is chia-eggs will get your spinach square to hold their shape since it gets thicker. If you use flax-eggs your spinach squares won't hold their shape and will be spreading out in your plate. 
You can keep this recipe for up to 1 week in the fridge and it is actually perfect to throw in the lunch boxes for the week. So you'll save time not only making dinner but making lunches as well. Isn't it the best ? Now the only thing left for you to do is yo give it a try yourself to confirm that it will make your dinner experience much easier. 

Êtes-vous aussi parfois dépassé par le travail que vous devez effectuer pendant la semaine? Puis, vous rentrez à la maison et vous avez l'impression que le travail continue parce que vous devez sauter sur la préparation du souper pour votre famille et que vous n'avez même pas une minute pour vous asseoir et respirer un peu après cette longue journée? Si vous vous voyez  là-dedans, laissez-moi vous dire que vous n'êtes pas seul et que j'ai un moyen de rendre votre souper plus agréable. Vous voulez savoir comment? L'astuce consiste à cuisiner des choses rapides et faciles qui ne nécessitent qu'une petite quantité de travail réel. 
Alors aujourd'hui, j'ai une recette qui convient parfaitement à une semaine bien remplie que toute la famille appréciera et le cuisinier sera reconnaissant d'avoir le temps de s'asseoir un peu pendant qu'il cuit au four. Cette recette de carré d'épinards prend environ 10 minutes à assembler et 35 à 40 minutes de cuisson au four où vous aurez le temps de respirer un peu. La partie la plus longue est probablement de hacher les oignons et si vous avez un robot culinaire, je vous suggère de les hacher là-dedans pour vous rendre la vie encore plus facile.
 En termes de saveurs, cette recette est fromagé, crémeuse, moelleuse et est comme un brownie salée si vous voulez. Cette recette demande des œufs de chia et je veux que vous vous assuriez d'utiliser du chia moulu et non du lin. La raison est que les œufs de chia permettront à votre carré d'épinards de conserver sa forme car elle épaississent plus. Si vous utilisez des œufs de lin, vos carrés d'épinards ne conserveront pas leur forme et s'étaleront dans votre assiette. 
Vous pouvez conserver cette recette jusqu'à 1 semaine au réfrigérateur et est aussi parfaite pour mettre dans les boîtes à lunch pour la semaine. Ainsi, vous gagnerez du temps non seulement pour préparer le souper, mais aussi pour le dîner. N'est-ce pas ça le meilleur? Il ne vous reste plus qu'à l'essayer vous-même pour confirmer que ces carrés rendrons votre souper beaucoup plus facile.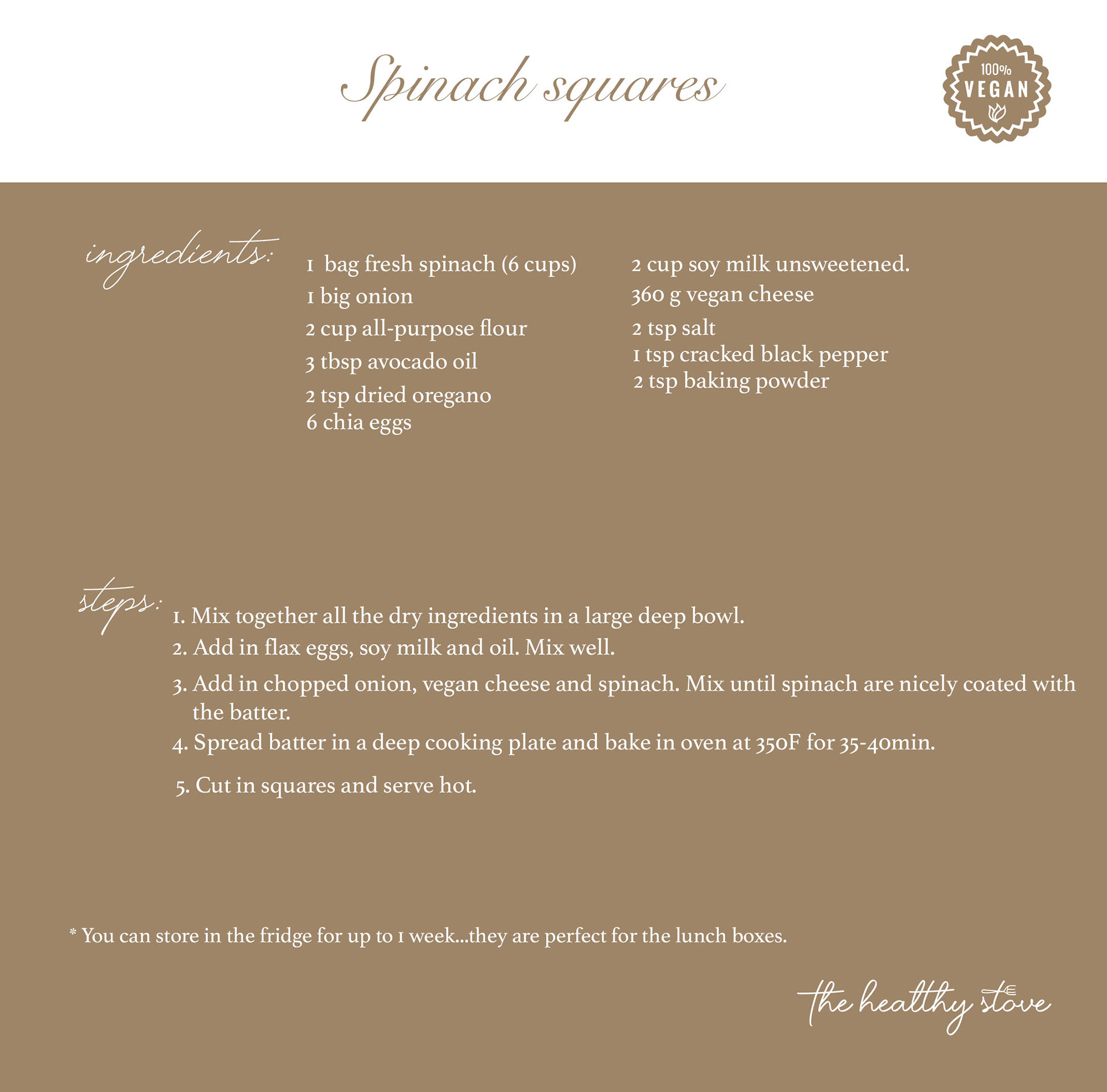 * If you make it I would love to see your work! Just tag me (
@the.healthystove
) on your recreation pictures on instagram and I would be happy to share your work on my stories.