I hope everyone is doing good and having a lovely week. Today I have a marbled waffle recipe for you that will be perfect for the weekend Sunday brunch. Because what's a brunch without some delicious waffles? Since I purchased my waffle iron I am in love with making waffles. No but seriously aren't waffles just perfect in the morning ? They are soft, flavourful and you can top them with whatever you want to. 
I have another recipe of waffles that is almond flavoured and also really good but I wanted to make some with different flavours because I like to be able to switch it up sometimes and not have the same recipe every time. This one is half vanilla and half chocolate flavoured which makes it very flavourful and pleasing to the eye because of the marbled look it gives. I won't lie it makes the process a little longer since you have to have 2 batter but up to me the taste makes it worth the extra work it takes. 
For this recipe I used only atta flour which is an indian whole wheat flour. If you can't find this flour you can substitute it for all purpose or light whole wheat flour. I did not try to make a gluten free option so if you want to change the flour for gluten free one I am not sure of the result it will make. 
Topping wise I like to top mine with a light drizzle of chocolate sauce along with some freshly cut fruits and some crushed walnuts. You can also top them with tahini, applesauce, jam, yogurt, ice cream...the possibilities are endless so don't be scared of trying all the toppings that comes to your mind. 
J'espère que tout le monde va bien et passe une belle semaine. Aujourd'hui, j'ai une recette de gaufres marbrées pour vous qui sera parfaite pour le brunch du dimanche du week-end. Car qu'est-ce qu'un brunch sans quelques délicieuses gaufres? Depuis que j'ai acheté mon gaufrier, je suis en amour! Faire des gaufres est rendue tellement simple et sans dégât. Non, mais les gaufres ne sont-elles pas vraiment parfaites le matin? Elles sont moelleuses, savoureuses et vous pouvez les garnir de ce que vous voulez. 
J'ai une autre recette de gaufres au goût d'amande qui est aussi très bonnes mais je voulais en faire une nouvelle avec des saveurs différentes car j'aime pouvoir changer parfois et ne pas avoir la même recette à chaque fois. Celle-ci est à moitié parfumé à la vanille et à moitié au chocolat, ce qui les rend très savoureuses et agréable à regarder en raison de leur aspect marbré. Je ne mentirai pas, cela rend le processus un peu plus long puisque vous devez avoir 2 mélanges, mais à mon avis, le goût en vaut la peine. 
Pour cette recette, j'ai utilisé uniquement de la farine atta qui est une farine de blé entier indienne. Si vous ne trouvez pas cette farine, vous pouvez la remplacer par de la farine tout usage ou de la farine de blé entier légère. Je n'ai pas essayé de faire une option sans gluten. Donc, si vous voulez changer la farine pour une farine sans gluten, je ne suis pas sûr du résultat que cela donnera. 
En ce qui concerne la garniture, j'aime garnir les miennes d'un léger filet de sauce au chocolat avec des fruits fraîchement coupés et des noix concassées. Vous pouvez également les garnir de tahini, de compote de pommes, de confiture, de yaourt, de crème glacée ... les possibilités sont infinies, alors n'ayez pas peur d'essayer toutes les garnitures qui vous viennent à l'esprit.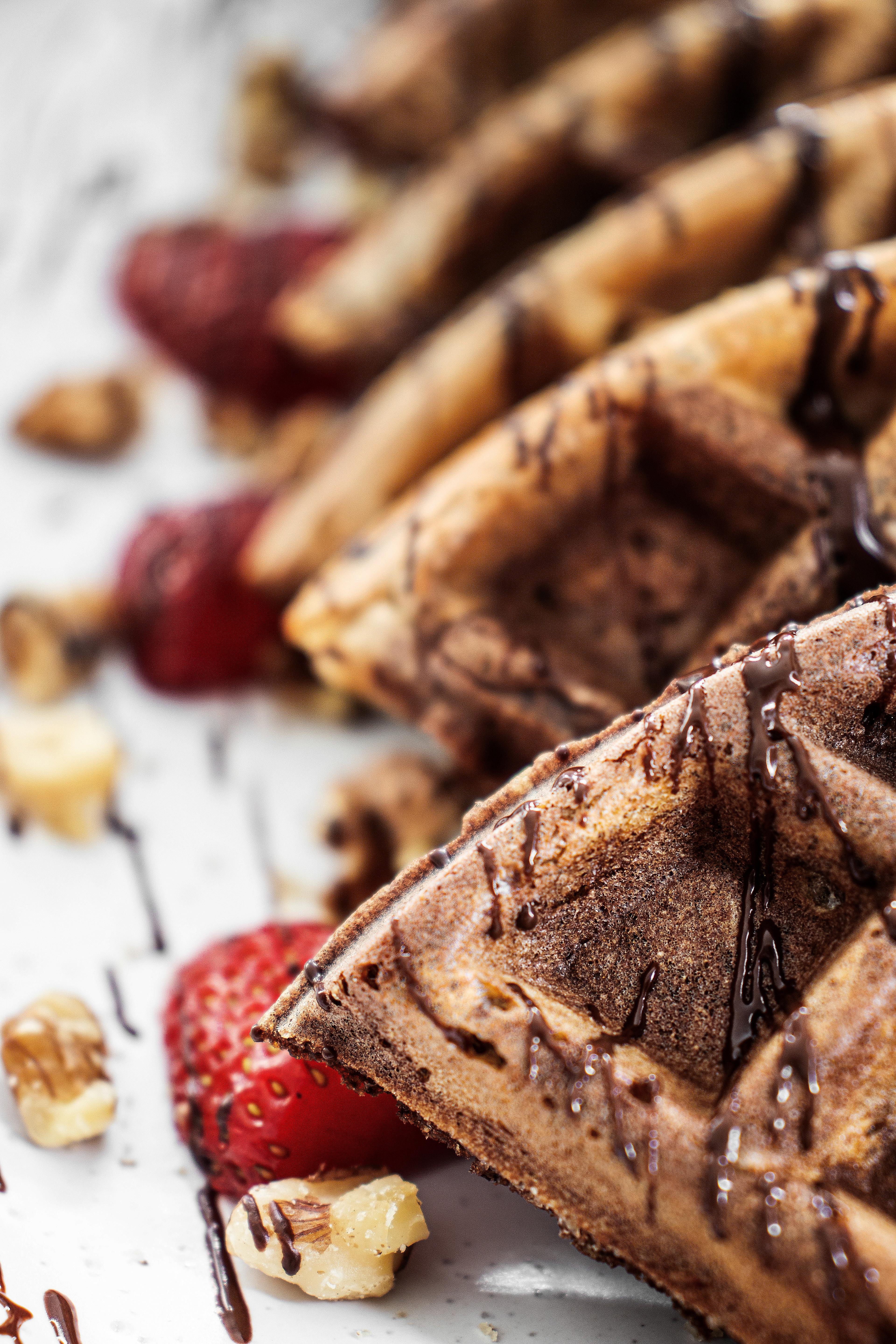 * If you make it I would love to see your work! Just tag me (
@the.healthystove
) on your recreation pictures on instagram and I would be happy to share your work on my stories.