This week I have a new date balls recipe for you and if you liked the previous one you'll like these too. These ones are extra soft since I used a different type of nut. I made them with walnuts and this nut is more oily then almonds so it makes the date balls even more soft which to me is sooo good. 
I really enjoy these balls since I have no time in the morning to have breakfast before I get out the door. Let's be real in the morning I want to sleep as long as I can and I have no time to loose eating breakfast before I leave for work. I know you'll tell me but isn't breakfast the most important meal of the day ? Yes you may be right and that's why these energy recharge balls comes to the rescue. I pack some in the morning and I enjoy them in the car on my way to work along with a tall glass of green juice to fuel me with plant based energy to get ready to kick my day. 
So if you like dates, nuts and seeds and you are also someone that doesn't have time to waste in the morning to sit at the table and eat your breakfast you will absolutely thank me for this recipe. It's easy, quick and you can easily prep them on the weekend for the entire week ahead. That means you can have breakfast on your commute to work without having to worry about making it in the morning since it will be ready to grab and go out the door every morning. 
If you prefer almonds over walnuts you can check out my other date balls recipe on this blog : Energy boost balls. It's just as good but less soft since almonds contains les oil than walnuts. You could even make a batch of both recipes if you have more than 2 people to feed. 
 Cette semaine, j'ai une nouvelle recette de boules de rendez-vous pour vous et si vous avez aimé la précédente, vous les aimerez aussi. Ceux-ci sont très doux car j'ai utilisé un type d'écrou différent. Je les ai faites avec des noix et cette noix est plus grasse que les amandes, donc elle rend les boules de dattes encore plus molles, ce qui pour moi est tellement bon. 
J'apprécie vraiment ces boules car je n'ai pas le temps le matin de prendre le petit déjeuner avant de partir pour le travail. Soyons réalistes le matin, je veux dormir aussi longtemps que possible et je n'ai pas le temps de perdre du temps pour prendre le petit-déjeuner avant de partir travailler. Je sais que vous me le direz; non mais Sophie le petit-déjeuner n'est-il pas le repas le plus important de la journée? Oui, vous avez peut-être raison et c'est pourquoi ces boules de recharge d'énergie viennent à la rescousse. J'en emporte quelques-unes le matin et je les apprécie dans la voiture sur le chemin du travail avec un grand verre de jus vert pour m'alimenter avec de l'énergie à base de plantes pour me préparer à démarrer ma journée. 
Alors, si vous aimez les dattes, les noix et les graines et que vous êtes aussi quelqu'un qui n'a pas de temps à perdre le matin pour vous asseoir à table et prendre votre petit déjeuner, vous me remercierez absolument pour cette recette. C'est facile, rapide et vous pouvez facilement les préparer le week-end pour toute la semaine à venir. Cela signifie que vous pouvez prendre votre petit-déjeuner sur votre trajet pour aller au travail sans avoir à vous soucier de le faire le matin, car il sera prêt à attraper dans le frigo et à sortir tous les matins. 
Si vous préférez les amandes aux noix de grenoble, vous pouvez consulter mon autre recette de boules de dattes sur ce blog: Boules énergisantes. C'est tout aussi bon mais moins moelleux car les amandes contiennent moins d'huile que les noix de grenoble. Vous pouvez même préparer chaqu'une des deux recettes si vous avez plus de 2 personnes à nourrir.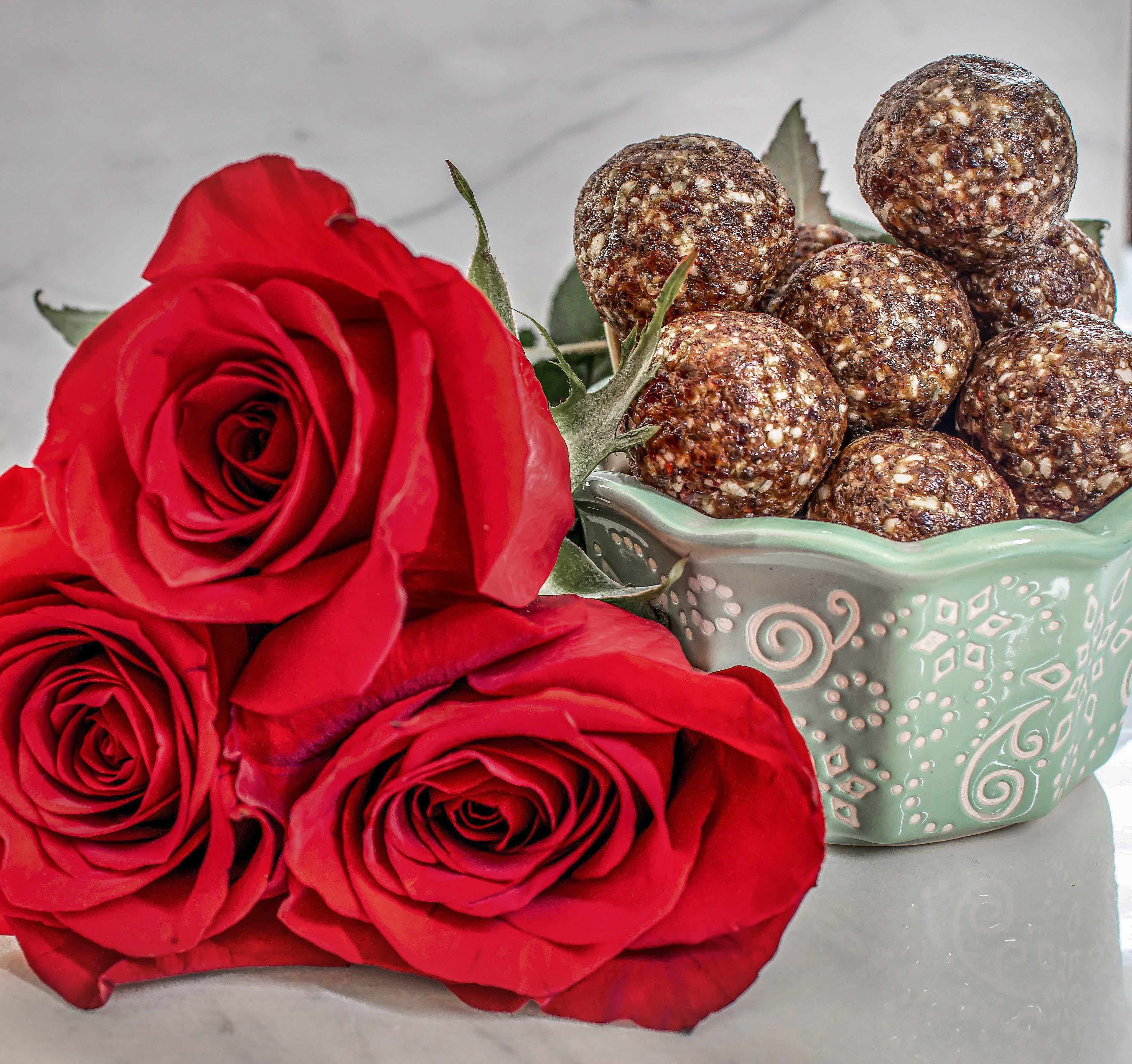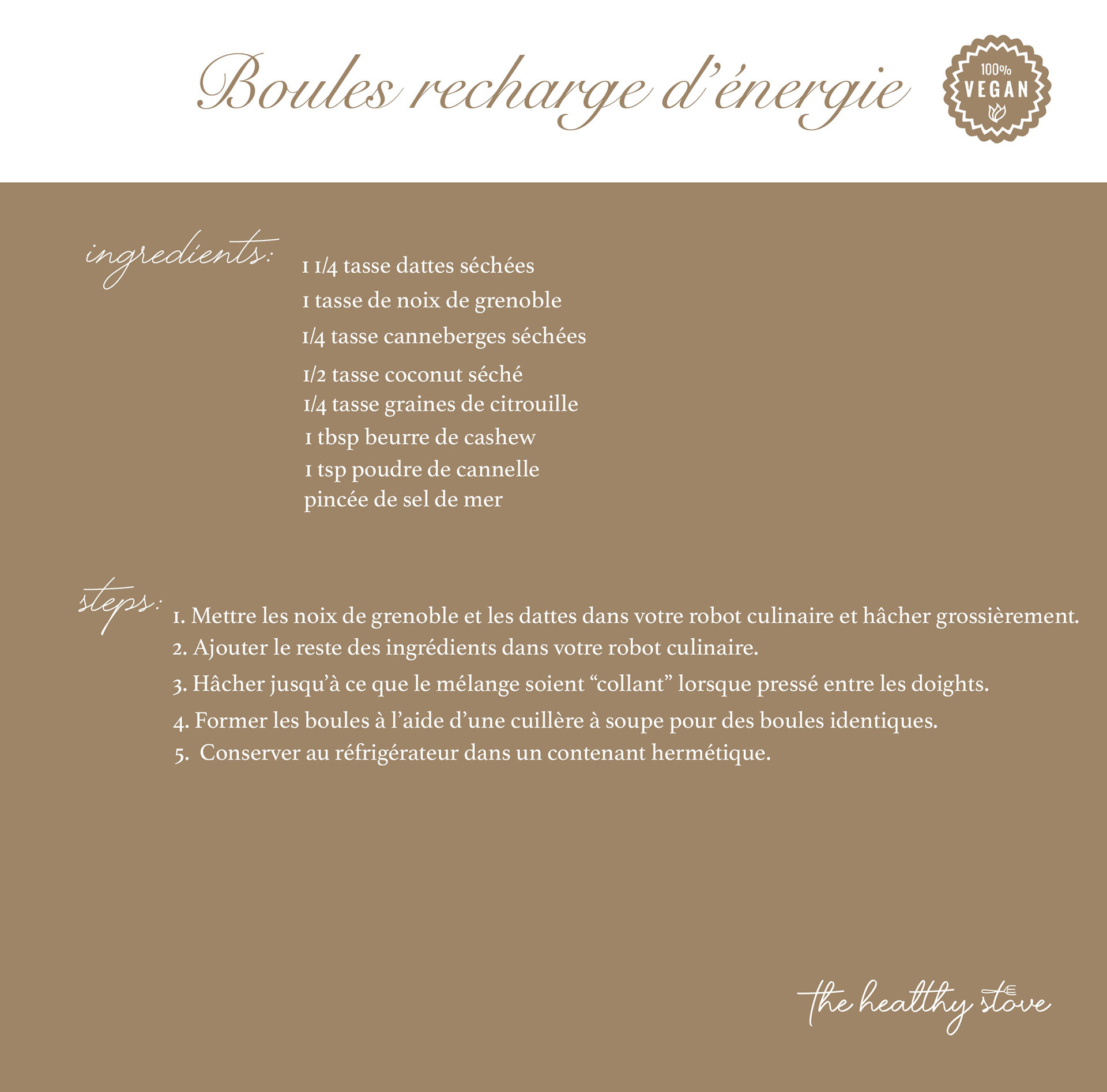 * If you make it I would love to see your work! Just tag me (
@the.healthystove
) on your recreation pictures on instagram and I would be happy to share your work on my stories.