What if I'd say these brownies are packed with protein and are actually an healthier version of the classic brownie by still tasting super decadent and chocolaty? Would you believe me ? Well you should because these brownies are exactly all of that and they are to die for seriously! It's the perfect combo between healthy and decadent that I like. Sweetened with banana and maple syrup these chocolate square goodness are also gluten free. Yes yes gluten free! 
These are also packed with proteins. Now your probably curious and wondering wait Sophie you said proteins ? Inside of a brownie ...seriously ?! Yes yes this is possible since these bad boys are chickpea based. And if you know me at all well you for sure know that I'm an absolute fan of chickpeas but hey even if you don't like them in this recipe you won't taste the chickpeas at all ! Trust me all your friends and family won't even guess that these have chickpeas in them. They also contain oats which makes them hold their shape better and nut crumble in pieces like other brownies that are only bean based.
If you like dark chocolate and nuts you will absolutely be a fan of these. They have a rich chocolate flavour that is very decadent but yet not too sweet which makes it perfect for the dark chocolate lovers who hates their chocolate to taste extremely sweet. Than they contain some walnuts which gives a nice little inside crunch but feel free to either replace the nuts or completely skip them if you don't like nuts in your brownies. 
All that being said I hope you'll give these a try and that you'll love them just as much as I do. Oh and did I mention that they are also excellent to pair with vegan vanilla ice cream and an added dark chocolate drizzle on top ? Just give that a try if you make them...you'll thank me later. 
Si je disais que ces brownies sont remplis de protéines et sont en fait une version plus saine du brownie classique en ayant toujours un goût super décadent et chocolaté? Me croirais-tu? Eh bien, vous devriez parce que ces brownies sont exactement tout cela et ils sont à tomber par terre! C'est la combinaison parfaite entre sain et décadent que j'aime. Sucrés avec de la banane et du sirop d'érable, ces super carrés au chocolat sont également sans gluten. Oui oui sans gluten!
 Ils sont également remplis de protéines. Maintenant vous êtes probablement curieux et vous questionnez; non mais attend Sophie tu as dit protéines? À l'intérieur d'un brownie ... sérieusement?! Oui oui c'est possible puisque ces "bad boys" sont à base de pois chiches. Et si vous me connaissez bien, vous savez à coup sûr que je suis une fan absolu des pois chiches mais bon, même si vous ne les aimez pas, dans cette recette vous ne goûterez pas du tout les pois chiches! Croyez-moi, tous vos amis et votre famille ne devineront jamais que ceux-ci contiennent des pois chiches. Ils contiennent également de l'avoine, ce qui leur permet de mieux conserver leur forme et de ne pas s'émietter en morceaux comme les autres brownies qui ne sont qu'à base de haricots/légumineuses.
 Si vous aimez le chocolat noir et les noix, vous en serez absolument fan. Ils ont une riche saveur de chocolat qui est très décadente mais pas trop sucrée, ce qui les rendent parfait pour les amateurs de chocolat noir qui détestent leur chocolat s'il a un goût extrêmement sucré. Ils contiennent aussi des noix, ce qui donne un bon petit croquant à l'intérieur, mais n'hésitez pas à remplacer les noix ou à les sauter complètement si vous n'aimez pas les noix dans vos brownies. 
Cela étant dit, j'espère que vous allez les essayer et que vous les aimerez autant que moi. Oh et ai-je mentionné qu'ils sont également excellents accompagner de crème glacée à la vanille végétalienne et d'un filet de chocolat noir ajouté sur le dessus? Essayez-le si vous les faites ... vous me remercierez plus tard.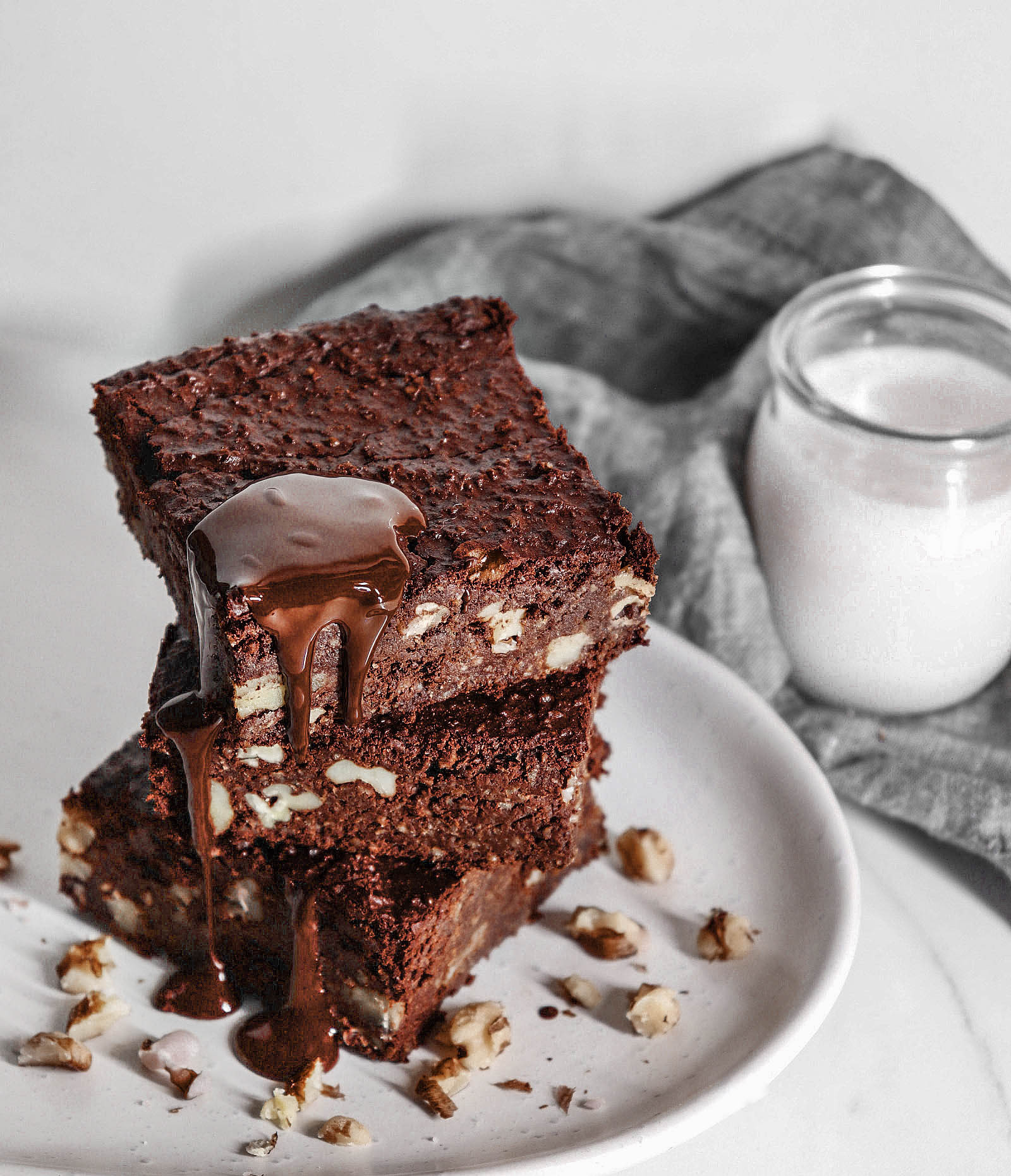 * If you make it I would love to see your work! Just tag me (
@the.healthystove
) on your recreation pictures on instagram and I would be happy to share your work on my stories.